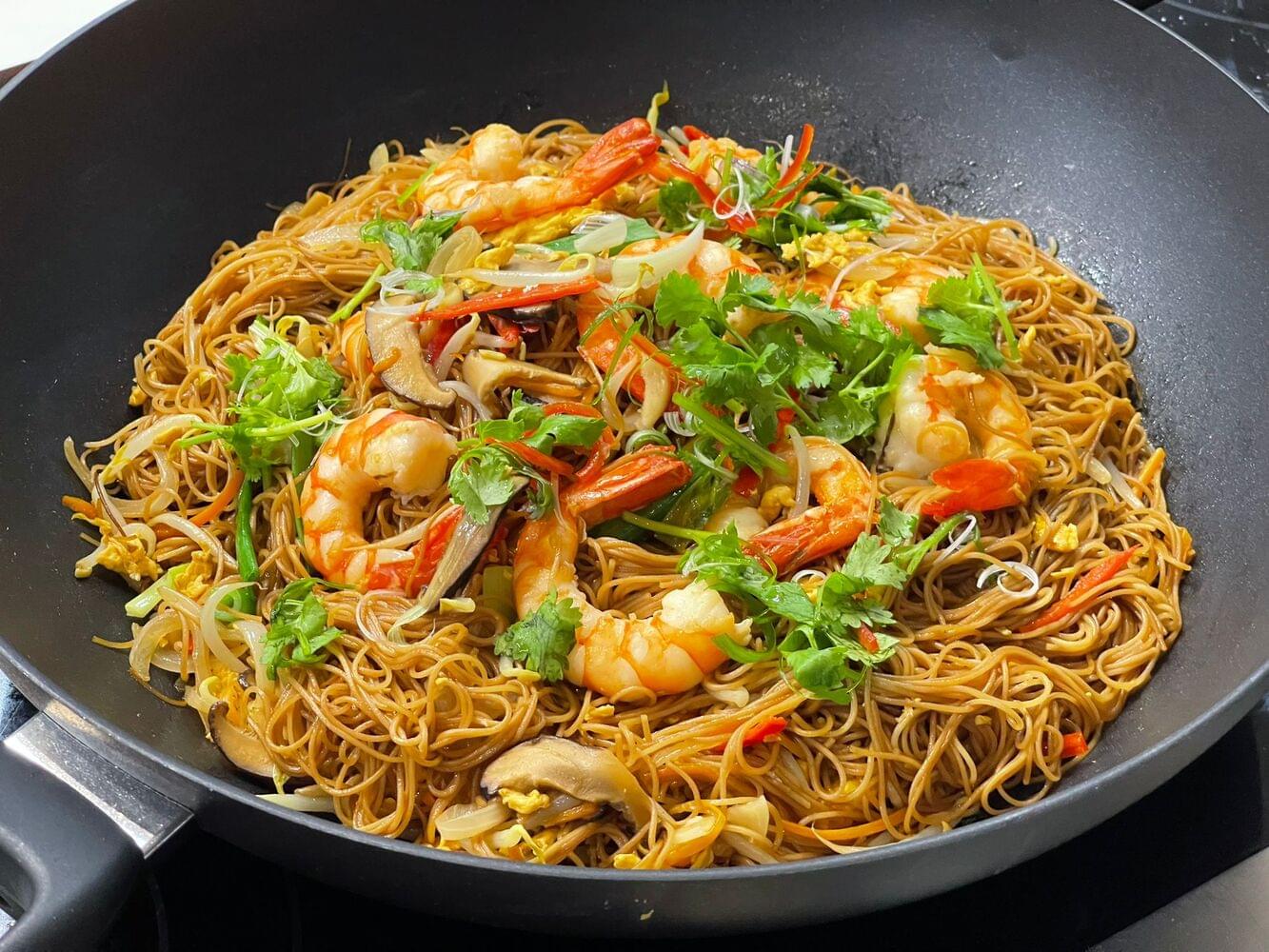 Wok-fried Mee Sua with Tiger Prawns
Ingredients
Mee Sua

300 g

Tiger Prawns

10

Bean Sprouts

washed & drained

100 g

Carrot

chopped

50 g

Chinese Dried Mushrooms

pre-soaked, sliced

50 g

Eggs

beaten

2

Garlic

chopped

2

Onion

sliced

1⁄2

Spring Onion

sliced

10 g

Red Chilli

sliced

1

Cooking Oil

3 tbsp

Seasoning

Oyster Sauce With Dried Scallop

2 tbsp

Dark Soy Sauce

2 tsp

Sesame Oil

1 tbsp

Chicken Stock

200 g

Pepper

1 tbsp
How to cook
Prepare the mee sua
Fry the mee sua over medium heat until golden.
Place the fried mee sua in a bowl and pour boiling water over it.
Let it soften for 5 minutes before draining and setting it aside.
Start cooking
Heat up oil in a wok pan and fry the prawns until cooked, then remove and set aside.
In the same wok pan, lightly scramble the egg then remove and set aside.
Using the same wok pan, stir fry the garlic, onions, mushrooms and carrots until soft.
Add the bean sprouts and stir fry for 1 minute.
Add the fried mee sua and toss evenly.
Add the oyster sauce, dark soy sauce, sesame oil, chicken stock and pepper, then stir fry over high heat.
Add the scrambled egg, folding it in evenly, then simmer for 3 minutes.
Add the cooked prawns, spring onions and red chilli, then serve!
Tried this recipe? Rate it!