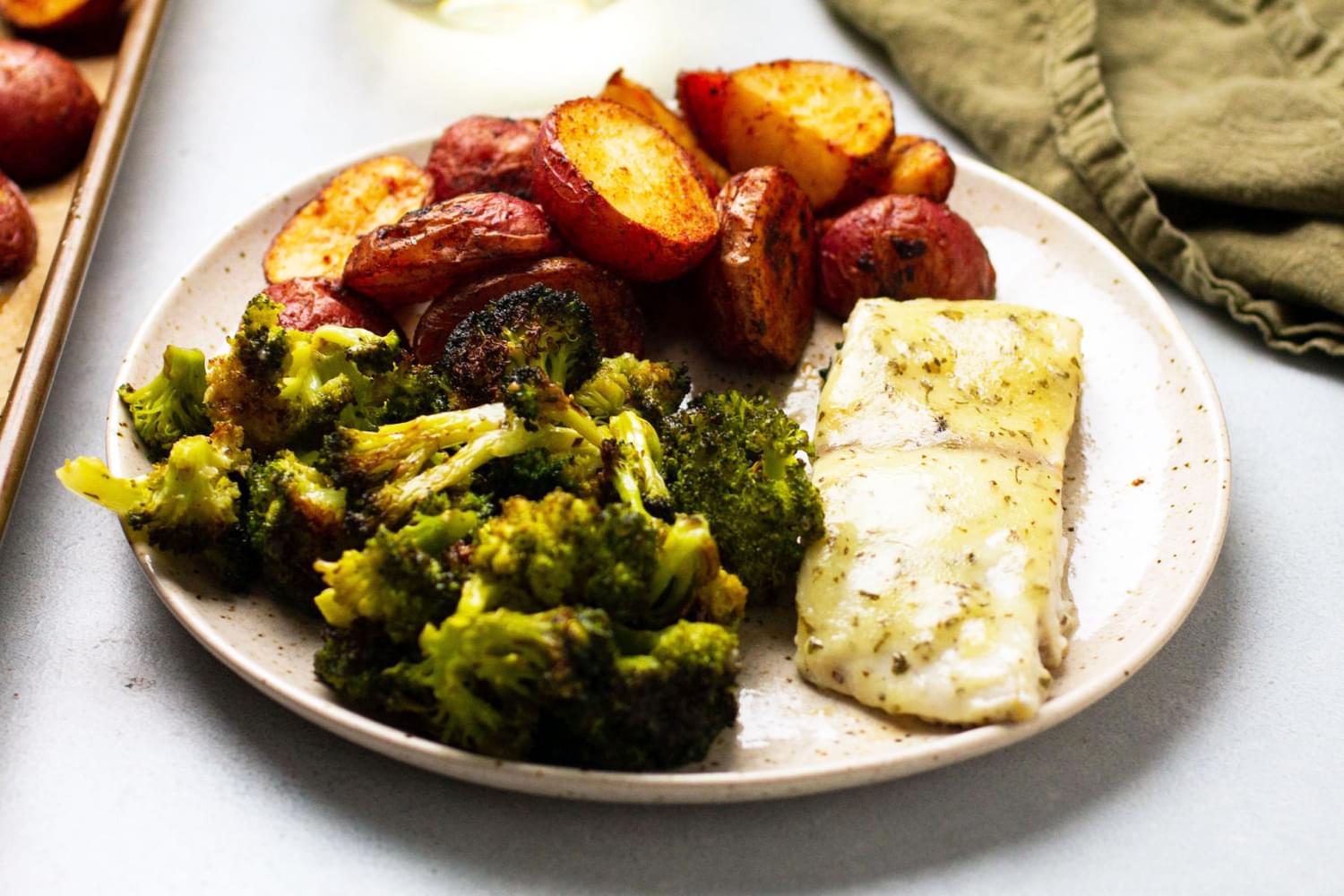 The Better Fish® One Pan Barramundi Dinner
Ingredients
Baby Red Potatoes

(halved)

450 g

Olive Oil

(divided)

3 tbsp

Smoked Paprika

1⁄2 tsp

Ground Cayenne Pepper

1⁄4 tsp

Garlic Powder

1⁄4 tsp

the better fish lemon herb butter barramundi

(frozen)

340 g

Broccoli Florets

450 g

Salt and pepper to taste
How to cook
Prepare the vegetables
Preheat oven to 218 degree celcius. Line a large sheet pan with parchment paper or a nonstick baking mat.
Place halved baby red potatoes in a large bowl. Add smoked paprika, cayenne, pepper, garlic powder, and a pinch of salt and pepper. Drizzle 2 tbsp olive oil, stir until potatoes are evenly coated in the spice mixture and spread them out in a single layer on the sheet pan.
Bake potatoes at 218 degree celcius for 10 minutes.
Carefully remove the sheet pan from the oven using tongs to move the potatoes to the far side of the pan.
Add broccoli florets to pan, drizzle with olive oil, then add salt and pepper. Toss with tongs until evenly coated then push the broccoli to the side to make room for the Barramundi.
Prepare the Lemon Herb Barramundi and serve!
Place Lemon Herb Barramundi in the middle of the sheet pan.
Bake the Barramundi for 20-25 minutes until it is bright white and flakes easily with a fork.
Move Barramundi to serving plates and use tongs to toss the broccoli with any leftover Lemon Herb Butter sauce on the pan. Serve immediately.
Tried this recipe? Rate it!