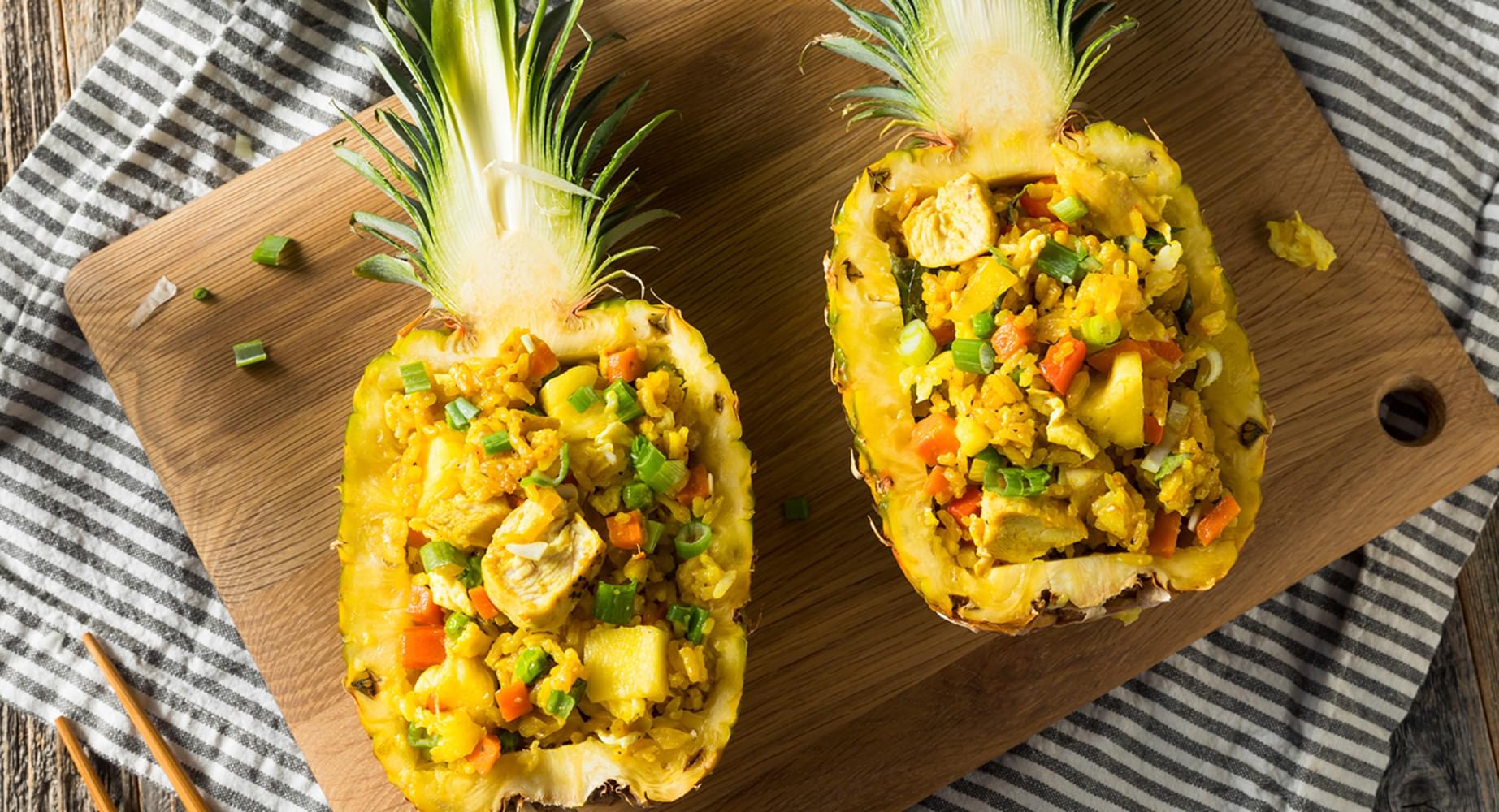 Thai Pineapple Fried Rice
Ingredients
Pineapple

1

Pineapple

chunks

1 cup

Cooked Rice

4 cups

Tiger Prawn

or grey prawn

225 g

Onion

Finely Chopped

50 g

Garlic

Minced

40 g

Raisins

1 cup

Cashew Nuts

1⁄2 cup

Spring Onion

Finely Chopped

20 g

Fish Sauce

2 tbsp

Oyster Sauce

1 tbsp

Vegetable Oil

2 tbsp

Sugar

1⁄2 tbsp

Salt

1 pinch
How to cook
Prepare the pineapple bowl
Cut the pineapple into half and remove the flesh to form a serving bowl.
Prepare the prawns
Heat up the frying pan and add in cooking oil to sear the prawns.
Once cooked, remove the prawns from pan and set it aside.
Start cooking
In the same pan, add in minced garlic and onion to cook for 30 seconds (add in more oil if needed).
Add in curry powder and cook till fragrant.
Add the cooked rice and stir fry till the curry paste coats evenly on the grains and the rice grains are not sticking to one another.
Add in raisins, pineapple chunks and cashew nuts - continue to stir fry for another 4 minutes.
Mix in half of the cooked prawns, fish sauce, oyster sauce, sugar and salt - continue to cook for another 2 minutes.
Remove the pan from heat and pour the fried rice into the pineapple bowl.
Garnish with the remaining cooked prawns and spring onion, then serve.
Tried this recipe? Rate it!