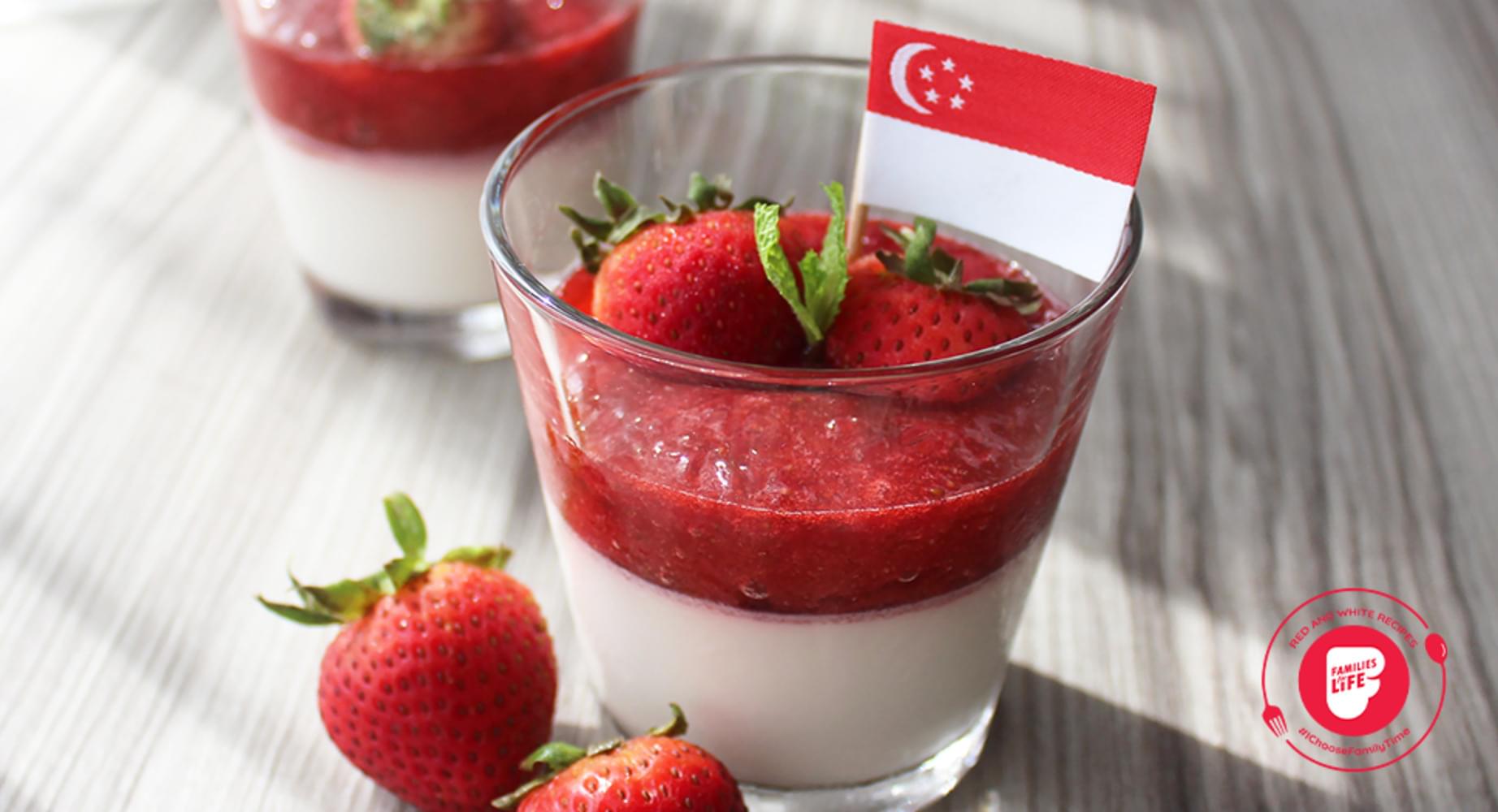 Ingredients
Strawberry Compote

Strawberries

200 g

Sugar

100 g

Lemon Juice

10 g

Panna Cotta

Milk

or roasted almond milk

370 g

Whipping Cream

240 g

Sugar

30 g

Gelatine Powder

5 g

Roasted Almond Milk (Optional)

Milk

250 g

Almonds

100 g

Almond Milk

120 g

Rhubarb Jelly

Rhubarb

chopped

300 g

Sugar

50 g

Agar Agar Powder

4 g

Gelatine Powder

2 g

Water

100 g

Mint Powder

Mint Leaves

20 g
How to cook
Prepare the strawberry compote
Add sugar to strawberries and let it sit in the fridge overnight to draw out the strawberry juice.
Pour away the strawberry juice and cook the strawberry in a saucepan with lemon juice until it becomes jammy.
Prepare the roasted almond milk
Roast the almonds in the oven at 180°C until toasted (about 3-4 minutes).
Add the toasted almonds into milk and blend.
Let the almond milk infuse overnight then pass it through a fine sieve lined with a cheesecloth to remove all almond bits.
Prepare the panna cotta
Bloom the gelatine powder in 10 grams of milk then set aside.
Add milk (or roasted almond milk), whipping cream, sugar and heat on a saucepan stirring constantly.
Add the bloomed gelatine mix and stir to melt.
Once melted set aside.
Prepare the rhubarb jelly
Mix gelatine in 10 grams of water.
Add the rhubarb, water and sugar into a saucepan and cook until it becomes jammy.
Add agar agar and gelatine and whisk to combine.
Blend the mixture and pass it through a fine sieve.
Prepare the mint powder
Put the mint leaves in a dehydrator or oven at a low temperature until it dries up.
Blend in a blender and pass it through a sieve to get mint powder.
Store it in the fridge and keep it covered to prevent it from clumping.
Assemble and serve
Pour the panna cotta into a glass cup and let it set.
Once the panna cotta has set, pour rhubarb jelly mixture and let it set.
Add the strawberry compote and garnish with the mint powder.
Tried this recipe? Rate it!