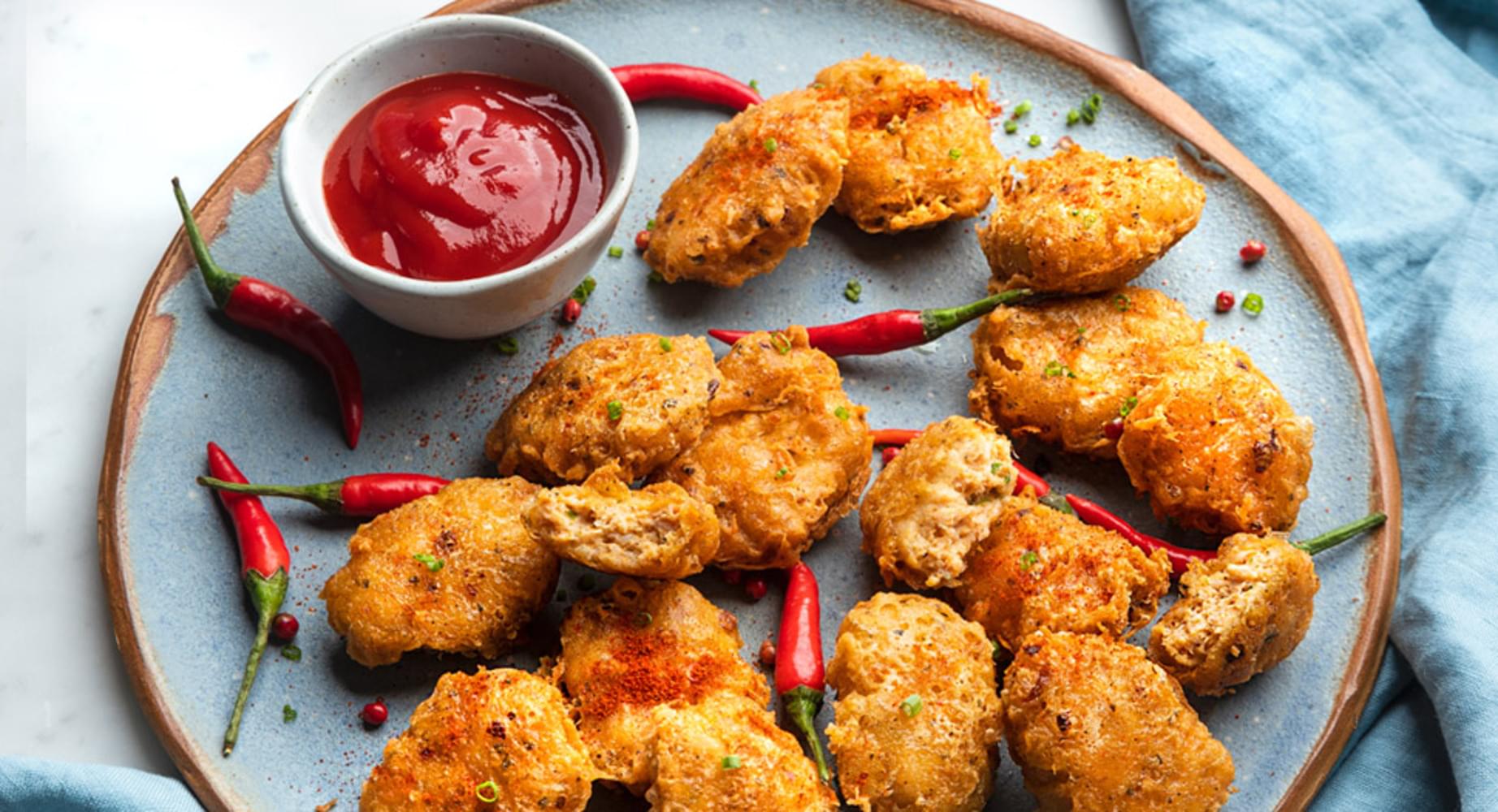 Ingredients
For Minced Mix

Eggs

whisked

2

Minced Chicken

700 g

Spring Onion

thinly sliced green part only

2

Coriander Powder

1⁄2 tsp

Smoked Paprika

1⁄2 tsp

Chicken Stock Powder

1⁄2 tbsp

Onion Powder

1 tsp

Garlic Powder

1 tsp

Cayenne Powder

alternatively chilli powder

1 tbsp

Salt

2 tsp

Black Pepper

1 tsp

Plain Flour

2 tbsp

Oil

1 tbsp

Milk

1 tbsp

For Batter

Plain Flour

1 cup

Corn Flour

1⁄2 cup

Baking Soda

1⁄4 tsp

Dried Coriander/Parsley Leaf

optional

1 tsp

Garlic Powder

1 tsp

Onion Powder

1 tsp

Black Pepper

1 tsp

Salt

2 tsp

Cayenne Powder

2 tbsp

Chilli Flakes

3 tbsp

Mustard

1 tbsp

Oil

2 tbsp

Soda Water

1 cup

For Dry Coating

Salt

1 tsp

Plain Flour

1 cup
How to cook
Prepare minced chicken
Combine minced mix ingredients together thoroughly for 3 mins until a thick sticky paste forms.
Prepare a tray lined with baking paper that can fit into your freezer.
With moist hands, mould meat mix into nugget shapes about 0.5cm thick.
Lay them on the tray, leaving a finger width between each nugget (~15g each).
Place in the freezer for about an hour or so, until firm and set.
Start cooking
When ready to fry, heat up a pot of oil on med-high heat.
Check if the oil is hot enough by sticking a wooden chopstick in the oil. Bubbles should form vigorously around it.
Whisk all the batter ingredients in a bowl, dry ingredients first followed by wet ingredients.
Add 5 – 6 ice cubes to keep the batter cool.
Coat nuggets in plain flour and shake off the excess.
Put into the batter mix coating it well and fry for about 3 mins or until golden brown.
Whilst still hot, toss the nuggets with a sprinkling of cayenne/chilli powder or chilli flakes & salt to your desired preference.
Tried this recipe? Rate it!