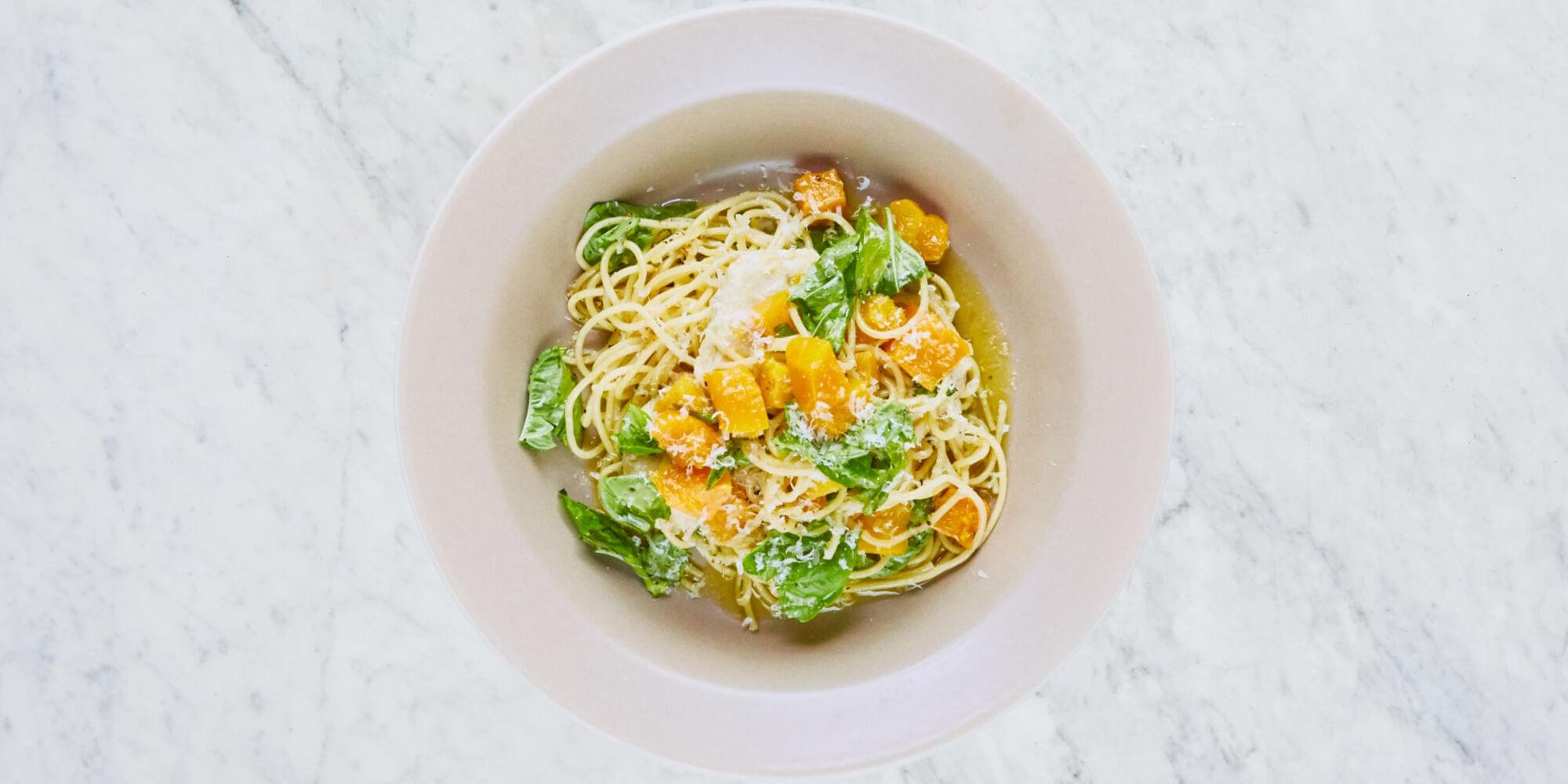 Ingredients
| | |
| --- | --- |
| Boneless Skinless Chicken Breasts | 4 |
| Olive Oil | 5⁄8 cup |
| Salt | 1 tbsp |
| Black Pepper | 1 pinch |
| Butternut Squash | 1⁄2 |
| Fresh Sage | 1⁄4 bunch |
| Fresh Thyme | 1⁄2 bunch |
| Crushed Red Peppers | 1 tsp |
| Garlic Cloves | 3 |
| Italian Parsley | 1⁄4 bunch |
| Lemon | 1 |
| Spaghetti | 225 g |
How to cook
Preheat
Preheat the oven to 425F.
Line sheet pan with foil.
Roast Butternut Squash
Peel and dice the butternut squash. Toss with 1 tbsp olive oil.
Season with 1/2 tsp of salt and hand-torn sage.
Bake for 25 minutes.
Sear Chicken
Cut the chicken breasts into medium-thin slices.
Set pan over high heat for 2 minutes. Add 1 tbsp of olive oil, allowing it to heat for a few seconds before adding the chicken.
Cook for 6 minutes until golden brown, seasoning halfway through with 1 tsp of salt and a pinch of pepper.
Boil Spaghetti
Bring a large pot of water to a boil; season with 1 tsp of salt.
Add spaghetti and cook until al dente, firm to the bite but not soft.
Simmer Sauce
Thinly slice the cloves of garlic. Roughly chop the parsley and reserve.
Set a pan over medium low heat.
Add 1/2 cup oil, garlic, red pepper, and fresh thyme; simmer for 3 - 4 minutes.
Season Sauce
Turn heat off and discard the thyme from chili garlic oil.
Add the reserved chopped parsley, along with the zest and juice of 1 lemon. Season with 1/2 tsp of salt.
Serve and Enjoy!
Pair with your favorite music!
Tried this recipe? Rate it!