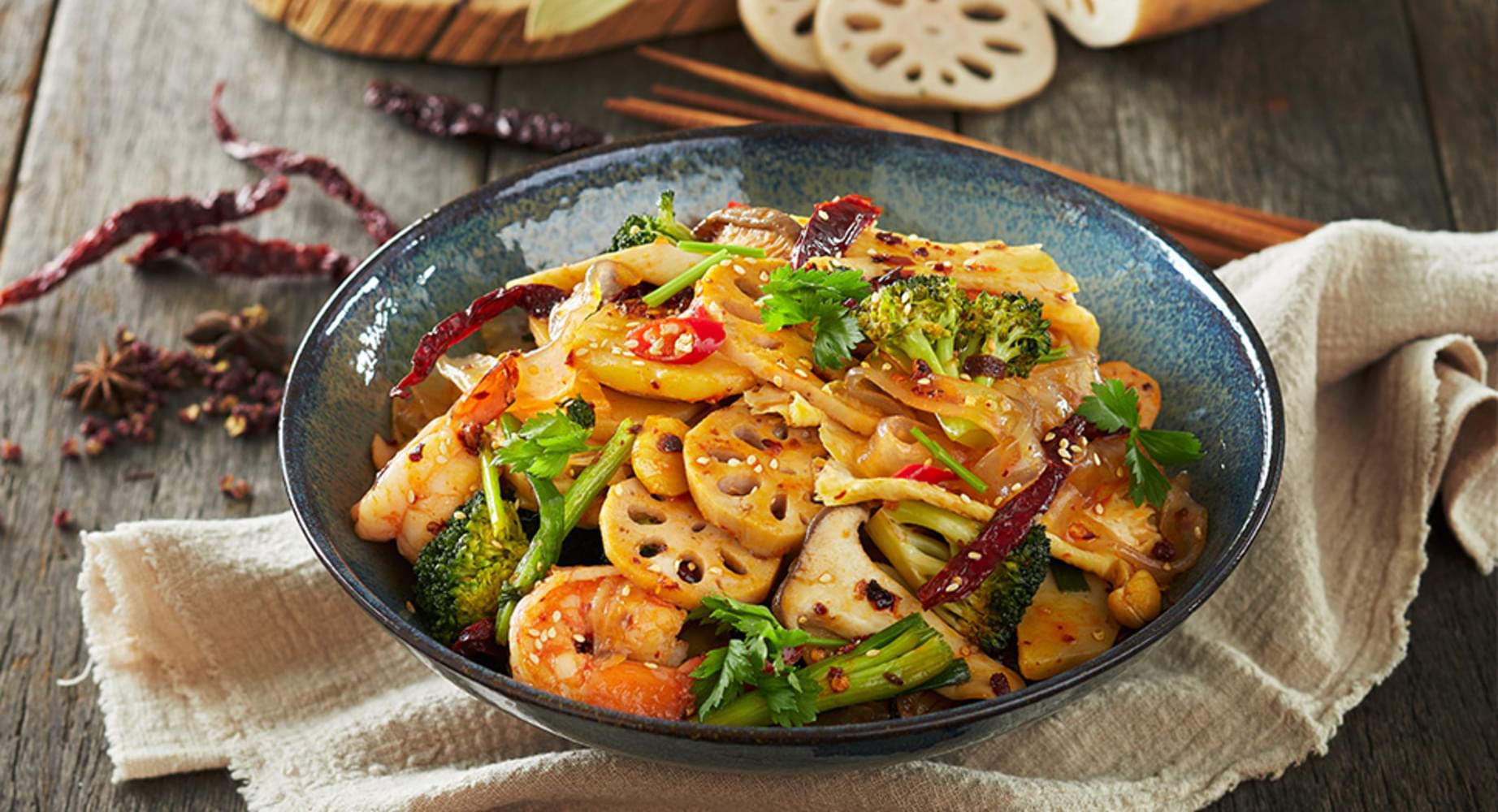 Ingredients
Prawns

deveined and deshelled

8

Potato Vermicelli

100 g

Beancurd Stick

soaked

25 g

Potato

sliced

1

Oyster Mushrooms

sliced

100 g

Lotus Roots

sliced

200 g

Broccoli

cut small florets

150 g

Chinese Parsley

cut into sections

30 g

Spring Onion

cut into sections

20 g

Coriander

for garnishing

Onion

sliced

1

Ginger

sliced

30 g

Garlic

minced

1 tbsp

Dried Chili

grounded

2 tbsp

Dried Chili

soaked

10

Cashew Nuts

fried

1⁄4 cup

Cooking Oil

2 tbsp

Seasoning

Mala Liquid Seasoning

2 1⁄2 tbsp

Light Soya Sauce

1 tbsp

Hua Tiao Wine

1 tbsp

Sugar

1 tsp

Pepper
How to cook
Blanch ingredients
Blanch prawns in boiling water for 20 seconds, set aside.
Separately blanch vermicelli, sliced potato and lotus roots in boiling water for 2-4 minutes, set aside.
Start cooking
Heat oil in a wok, fry grounded dried chili till oil changes to a red oil.
Saute ginger, garlic, onion and dried chilli till fragrant.
Add spring onion, chinese parsley and cook for 1 minute.
Over the medium-high fire, cook broccoli for 2 minutes.
Add lotus roots, potatoes, beancurd sticks, oyster mushrooms, vermicelli, prawns and quickly combine well.
Season with all the seasonings except for hua tiao wine, taste and adjust the seasonings to your preference.
Lastly, quickly stir in cashew nuts and drizzle some hua tiao wine. Garnish with some coriander and serve hot.
Garnish with some coriander and serve hot.
Tried this recipe? Rate it!