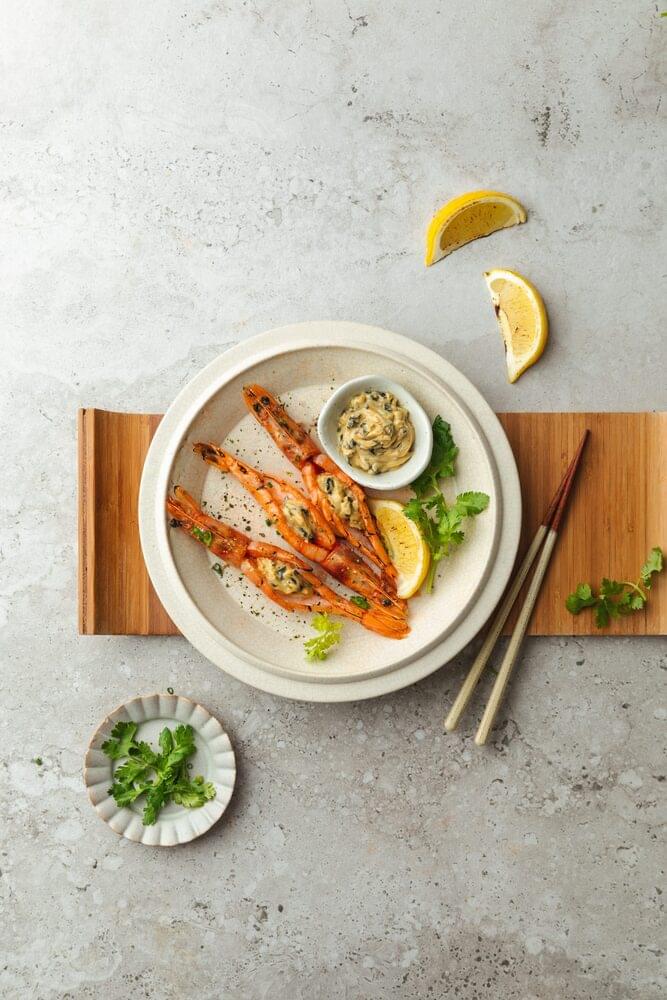 Roasted Prawns with Seaweed Butter
Ingredients
Prawns

9

Cooking Oil

1 tbsp

Salt

to taste

1 pinch

Pepper

to taste

Seaweed Butter

Seaweed

2 g

Butter Salted

softened

125 g

Soy Sauce

1⁄2 tsp

Black Sugar

1 tsp

Garnish (Optional)

Spring Onion

thinly sliced

Coriander
How to cook
Prepare seaweed butter
Combine soy sauce & black sugar in a bowl and microwave on high for 15 secs. Meanwhile, roughly chop seaweed into small pieces of about 0.5cm or so.
Add chopped seaweed and salted butter into the bowl of soy sauce and sugar.
Mix until there are no streaks of butter left in the mixture, then set aside.
Prepare prawns
Butterfly cut the topside of the prawn body just after the head all the way to the tail without cutting through the other side, as you would do to a hot dog bun.
Toss to coat in seaweed butter mixture and season with a pinch of salt and black pepper.
Start cooking
Preheat the oven to 200°C.
Spread the prawns open & place the prawn shell side down onto a tray.
Place tray on top oven rack and roast the prawns until pink and opaque.
Alternatively, you can use a pan over medium-high heat, place the prawn shell side down, and cook for about 2-3 mins covered and 1 min uncovered until cooked.
Remove prawns from the oven and put some butter over them, letting the heat melt them.
Garnish with spring onions and serve immediately.
Tried this recipe? Rate it!