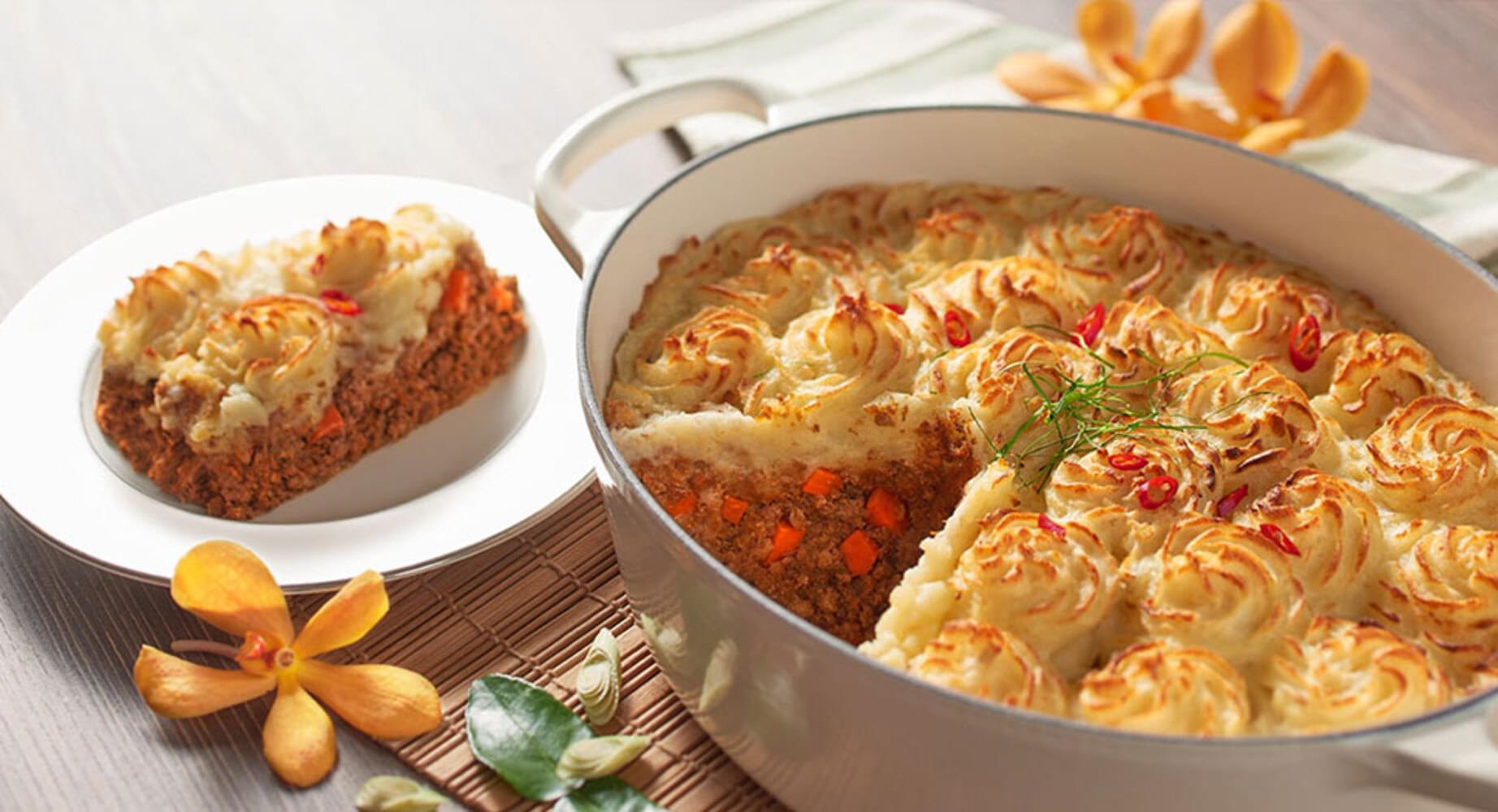 Ingredients
Beef

minced

750 g

Carrot

cubed

1

Lemongrass

cut into 4 inches and pounded

1 stalk

Turmeric Leaf

1

Kaffir Lime Leaves

finely sliced

6

Cinnamon Stick

2-inches

1

Cloves

3

Star Anise

3

Cardamom pods

3

Thick Coconut Milk

1 cup

Palm Sugar

1 tbsp

Grated Coconut

for the kerisik (toasted coconut)

3⁄8 cup

Tamarind

pulp, for the tamarind liquid

Cooking Oil

1⁄3 cup

Salt

to taste

Water

1 cup

Spice Paste

Galangal

1 inch

Ginger

1 inch

Lemongrass

white part only

3 stalks

Shallots

5

Garlic

5 cloves

Dried Chillies

soaked in warm water and deseeded

12

Shepherd's Pie Topping

Potatoes

skins removed

900 g

Thickened Cream

3 tbsp

Butter

85 g

Salt

1⁄2 tbsp
How to cook
Prepare ingredients
Soak dried chilies in warm water and deseeded.
Blend the spice paste ingredients in a food processor until fine.
To prepare the kerisik (toasted coconut), add the grated coconut to a dry wok and stir repeatedly until golden brown.
To prepare tamarind liquid, add 2 tsp tamarind pulp soaked in 2 tbsp of warm water for the juice. Discard the seeds, once done.
Cook beef
Heat the oil in a stew pot. Add the spice paste, cinnamon, cloves, star anise, and cardamom pods. Stir-fry until aromatic.
Add the minced beef, pounded lemongrass and turmeric leaf. Stir for 1 min.
Add coconut milk, tamarind liquid and water. Simmer on medium heat, stirring frequently until the beef is almost cooked.
Add the finely sliced kaffir lime leaves, kerisik (toasted coconut) and palm sugar. Stir to blend well with the beef.
Set heat to low, cover the lid and simmer for 60-90 mins, or until the beef is tender and the gravy has dried up.
Add more salt and sugar to taste.
Remove visible spice remnants like star anise, turmeric leaf and lemongrass.
While beef simmers, heat the oven to 180°C.
Prepare Shepherd's Pie Topping
Add cold water to the pot until potatoes (skin removed) are covered by 1 inch. Add salt to the water. Boil until they are tender when pierced with a fork.
Drain, then mash with butter and thickened cream.
Start baking
Put the cooked beef into an ovenproof dish, top with the mash and ruffle with a fork.
Bake for 20-25 mins until the top turns golden brown and the minced beef is bubbling at the edges.
Tried this recipe? Rate it!