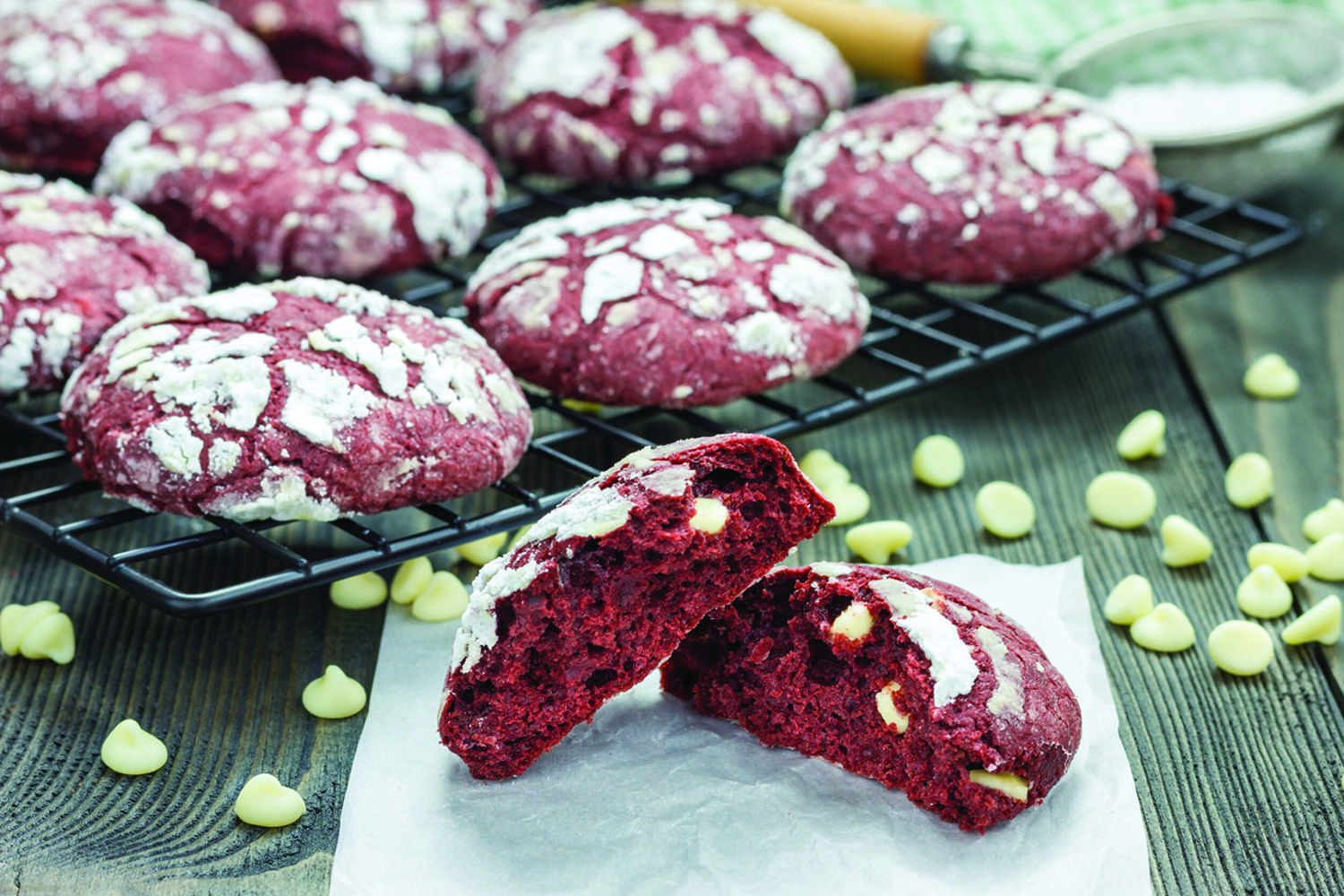 Red Velvet Chocolate Chip & Macadamia Cookies
Ingredients
Egg

large

1

Butter

softened to room temperature

65 g

Plain Flour

170 g

Cocoa Powder

10 g

White Chocolate Chips

250 g

Baked Macadamia

(chopped)

125 g

Granulated Sugar

100 g

Brown Sugar

55 g

Liquid Red Food Colouring

2 tsp

Vanilla Extract

1⁄2 tbsp

Lemon

juice

1 tsp

Baking Soda

1⁄2 tsp
How to cook
Prepare flour mixture
In a mixing bowl whisk together flour, cocoa powder and baking soda, set aside.
Prepare cookie mixture
In the bowl of an electric stand mixer fitted with paddle attachment, cream together butter (should be softened to room temperature first), granulated sugar and brown sugar until combined.
Mix in egg. Add in red food colouring, vanilla and lemon juice.
Add flour mixture and mix until combined.
Mix in chopped macadamia and 200g white chocolate chips (set aside the remaining 50g to use after baking).
Cover bowl and chill dough for 1 hour or until dough are nearly firm.
Start baking
Preheat the oven to 170ºC near the end of dough chilling.
Scoop 25g of dough out and shape into balls and place onto a large baking tray with parchment paper with spacing 2-inches apart.
Bake one sheet at a time (keep remaining dough chilled and repeat process), until cookies appear set on the edges but slightly under-baked in the center, about 10-11 minutes.
Melt the remaining 50g of white chocolate chips and place it in a piping bag.
Remove cookies from the oven and drizzle the top with the melted white chocolate chips.
Let cool on a baking sheet for 5 mins, then transfer to a wire rack to cool.
Tried this recipe? Rate it!