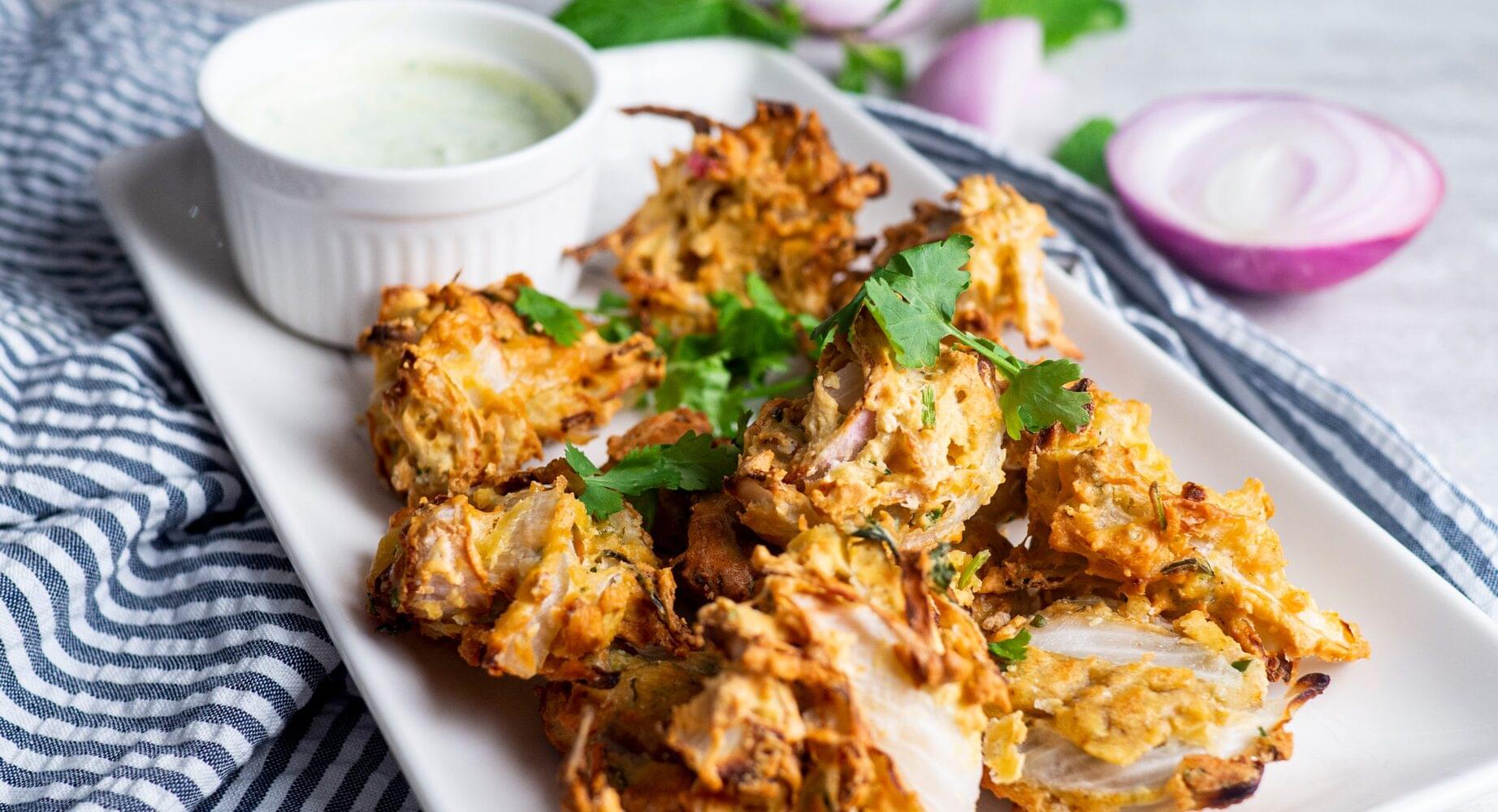 Ingredients
Red Onion

sliced

1

Green Chilli

thinly sliced

2

Fresh Coriander

leaves thinly sliced

2 tbsp

Curry Leaves

thinly sliced

1 tsp

Gram Flour

1 cup

Rice Flour

1 cup

Coriander Seeds Powder

1 tsp

Red Chili Powder

1⁄2 tsp

Garam Masala

1⁄4 tsp

Olive Oil

1 tbsp

Salt

to taste

2 tsp

For Mint And Coriander Raita Dip

Greek Yoghurt

3 tbsp

Fresh Coriander

leaves

2 tbsp

Mint Leaves

5

Salt

to taste

Pepper

to taste
How to cook
Prepare raita dip
Blend or mashed coriander leaves and mint leaves until smooth.
In a small bowl, mix yogurt with coriander and mint leaves paste.
Add salt and pepper to taste.
Place in the fridge to chill.
Prepare batter mixture
In a bowl, mix onion (sliced), green chilli (thinly sliced), coriander leaves (thinly sliced), curry leaves (thinly sliced), and salt. Set it aside for 10 minutes.
Add gram flour, rice flour, coriander seeds powder, red chili powder, and garam masala into the onion mixture.
Keep kneading to make a thick and sticky batter.
Add oil into the batter and mix well.
Start cooking
Portion the batter into smaller nuggets and place the portions into the air fryer.
Brush the dough's surface lightly with oil before air frying for 10-15 minutes (200°C).
Once the pakoras are done, place them on a cooling rack.
Serve the onion pakoras hot along with mint and coriander raita dip for a delicious snack.
Tried this recipe? Rate it!