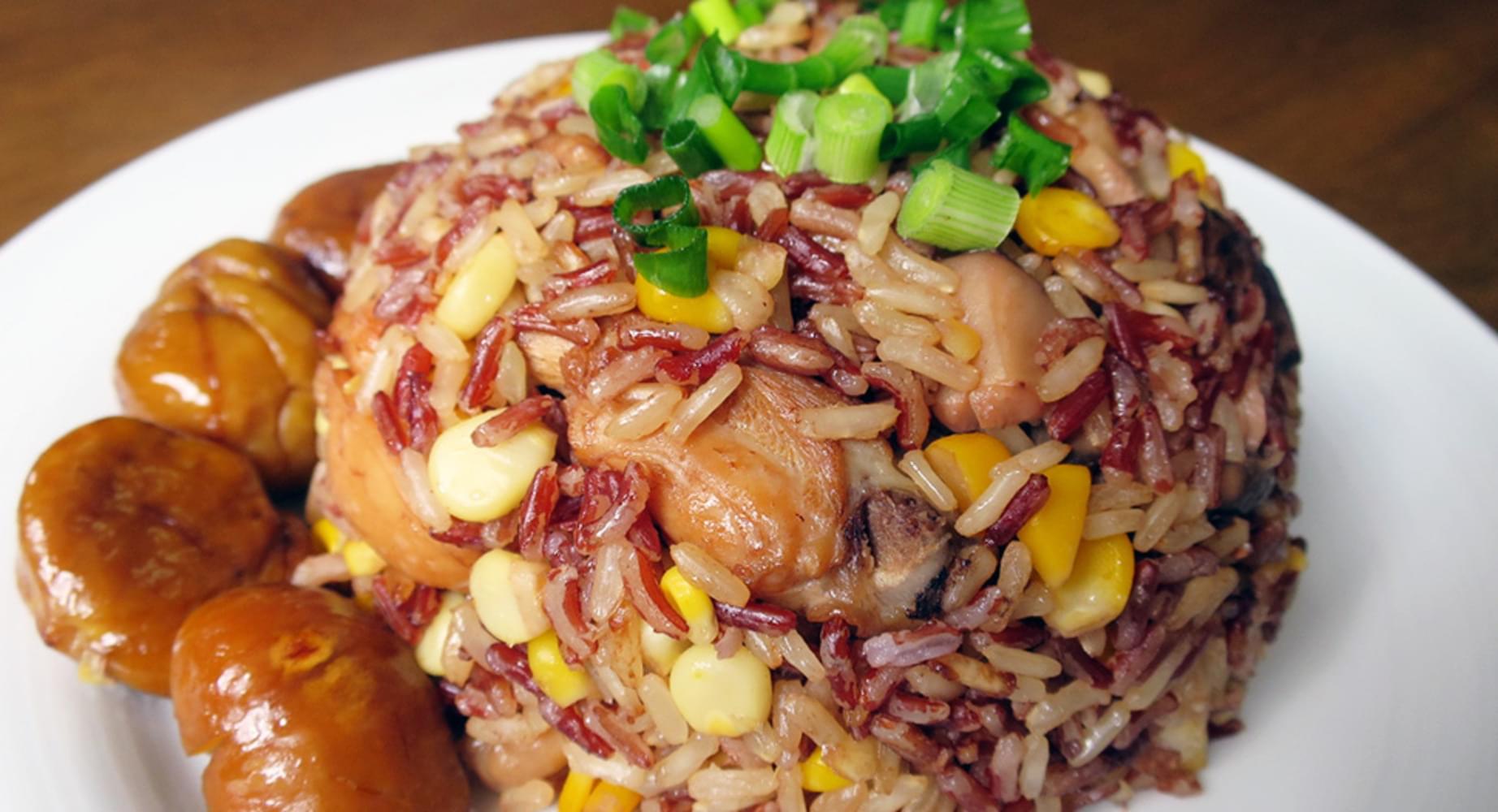 One-Pot-Meal Recipe: Chestnut Chicken Rice
Ingredients
Chicken Thigh

skinned, deboned, cut into cubes

300 g

Brown Rice

washed, drained

1 1⁄2 cups

Dried Shiitake Mushroom

soaked to soften, sliced thinly

12

Chestnuts

peeled

16

Frozen Corn Kernel

1 cup

Chicken Stock

or water

3 cups

Cooking Oil

2 tbsp

Ginger

6 slices

Ground White Pepper

to taste

Salt

to taste

Marinade:

Chinese Cooking Wine

1 tbsp

Light Soy Sauce

1⁄2 tbsp

Dark Soy Sauce

1⁄2 tbsp

Salt

1⁄4 tsp
How to cook
Prepare ingredients
Marinate chicken (skinned, deboned cut into cubes) with light and dark soy sauce, Chinese cooking wine and salt.
Cover and leave for 30 minutes minimum or overnight in the fridge for maximum flavor.
Steam chestnuts for 15-20 minutes until soft. Set aside.
Wash and rinse the rice well. Set aside.
Start cooking
In a wok or non-stick pan, heat oil and stir-fry sliced ginger until fragrant.
Add chicken, mushrooms and corn kernel and stir-fry until three-quarters done. Do not overcook the chicken while in the wok.
Add drained rice and stir-fry for 3-5 minutes until rice grains are dry and separate.
Add salt and ground white paper to taste.
Transfer all into rice cooker, place chestnuts on top and add fat-free chicken stock or water.
Cook until rice and ingredients are done.
Garnish with spring onion. Serve hot and enjoy the meal with your family!
Tried this recipe? Rate it!