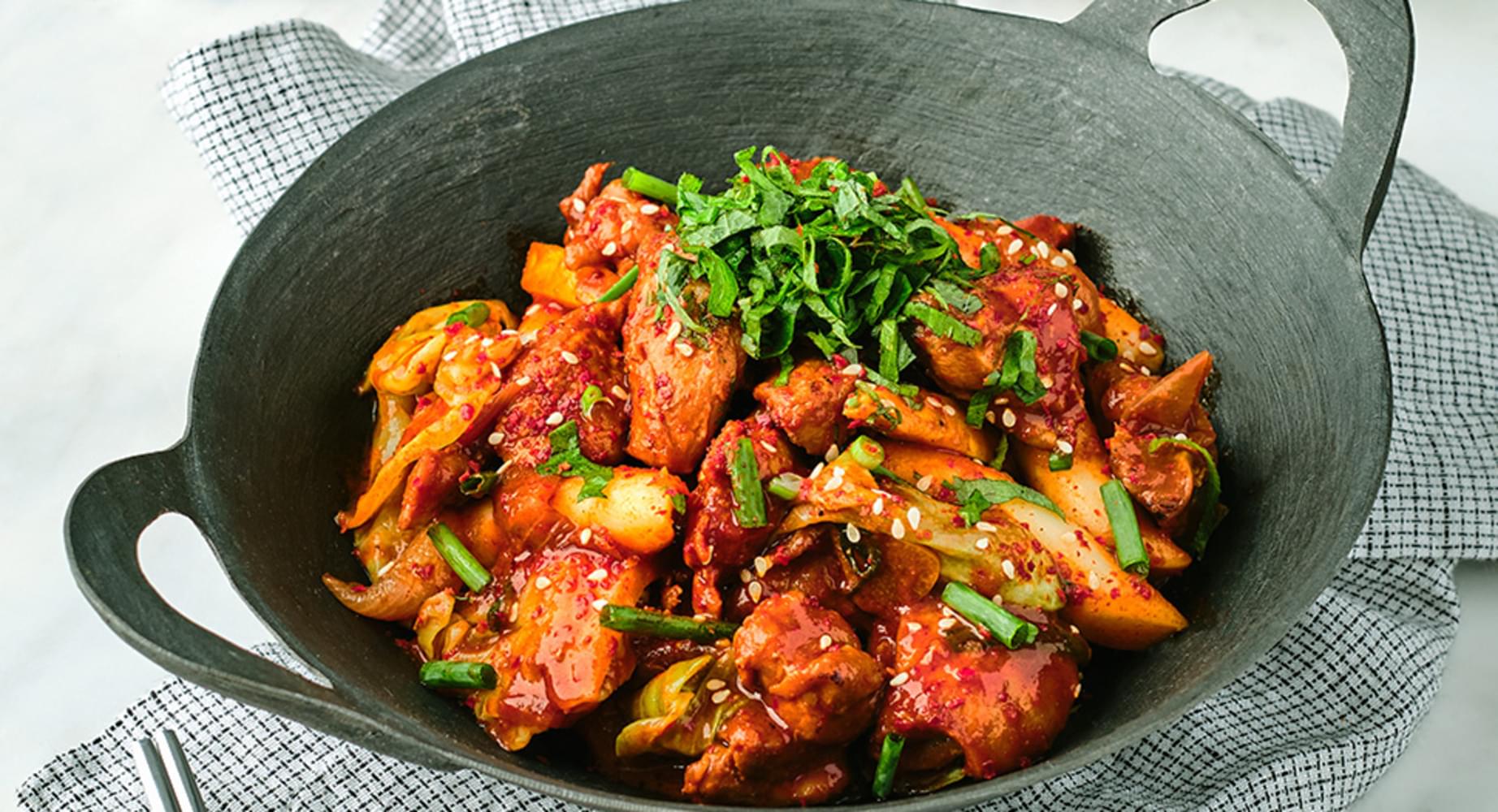 Dak-galbi (Korean Spicy Stir-Fried Chicken)
Ingredients
Boneless Chicken Legs

cubed

500 g

Rice Cakes

10

Sweet Potato

1

Cabbage

cut in 6 big pieces

1

Onion

1⁄2

Spring Onion

1 stalk

Green Chilli

1

Perilla Leaves

8

Sauce

Gochujang (Korean Chilli Paste)

3 tbsp

Garlic

chopped

2 tsp

Chilli Powder

1⁄4 cup

Cooking Wine

2 tbsp

Chicken Stock

1 tbsp

Oyster Sauce

1 tbsp

Soy Sauce

1⁄4 cup

Sesame Oil

1 tsp

Ground Black Pepper

1 pinch

Sugar

2 tbsp
How to cook
Prepare chicken & sauce
Mix all the sauce ingredients.
Cut the chicken legs into bite-sized pieces and marinate with the sauce.
Put the marinated chicken legs in the fridge for a minimum of 20 mins.
Prepare vegetables
Slice the onion, cabbage and green onion.
Cut the sweet potato into sticks.
Start cooking
Heat up a wok and drizzle some vegetable oil.
Put in the sweet potato, cabbage, onion, spring onion, rice cakes and marinated chicken.
Cover the wok for a while so the cabbage is a little soggy.
Continue frying until chicken is cooked through.
Put in the perilla leaves, mix once more and eat!
Tried this recipe? Rate it!