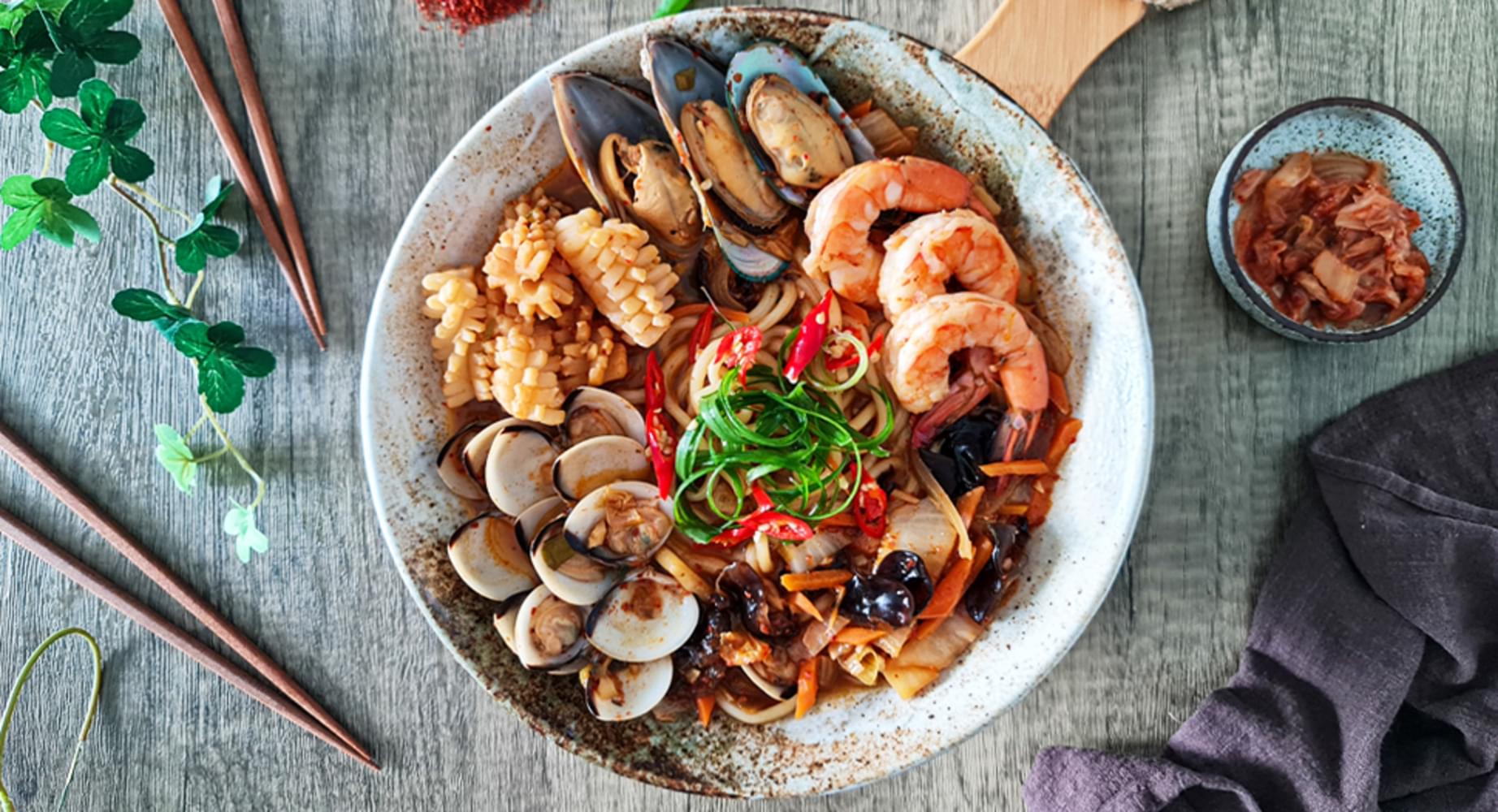 Seafood Jjampong (Korean Spicy Seafood Noodles)
Ingredients
Frozen Seafood (thawed prawns, mussels, clams and more)

700 g

Packets Udon or Ramen Noodles

2

PASAR Carrot (julienned)

1⁄2

Fresh Wood Ear Mushrooms (if dried, boil for 1-2 mins and drain before using)

1 cup

White Cabbage (sliced thinly)

1⁄4

Onion (sliced thinly)

1⁄2

CHEF China Garlic (minced)

4 cloves

PASAR Old Ginger (prepacked), minced

1⁄2 tsp

Spring Onions (white part only)

1⁄2 cup

FairPrice Canola Oil

2 tbsp

Broth Mix

Oyster Sauce

1 tbsp

FairPrice Dark Soy Sauce

1⁄2 tbsp

FairPrice Light Soy Sauce

1⁄2 tbsp

Gochugaru (Korean hot pepper flakes)

2 tbsp

Chicken Stock/Powder (add more according to your taste preference)

1 tbsp

Shaoxing Wine

2 tbsp

Water

1 l

Salt and white pepper, to taste

Garnish

Spring Onion (green part only)

1

Red Chillies (deseeded and sliced thinly)

Kimchi (optional)
How to cook
Stir fry the vegetables
Heat the canola oil in a pan on medium heat. Stir fry the garlic, ginger and spring onions until fragrant.
Increase the heat, then add the carrot, onion, cabbage and wood ear mushrooms. Keep stir frying until well combined.
Add the Korean hot pepper flakes and fry it quickly, ensuring that it never burns or it'll become bitter. Pour in the oyster sauce, as well as the dark and light soy sauce. Add the chicken stock or powder, Shaoxing wine, and water.
Add the frozen seafood and noodles
Bring the entire mixture to a boil. Add frozen seafood and simmer for 5 mins until it is just cooked through.
Cook the udon or ramen noodles in a separate pot according to the package instructions. Drain and rinse the noodles in cold water.
Add the cooked noodles and seafood to a bowl. Pour in the broth; garnish with spring onions, sliced red chillies, and some kimchi if you'd like to serve!
Tried this recipe? Rate it!