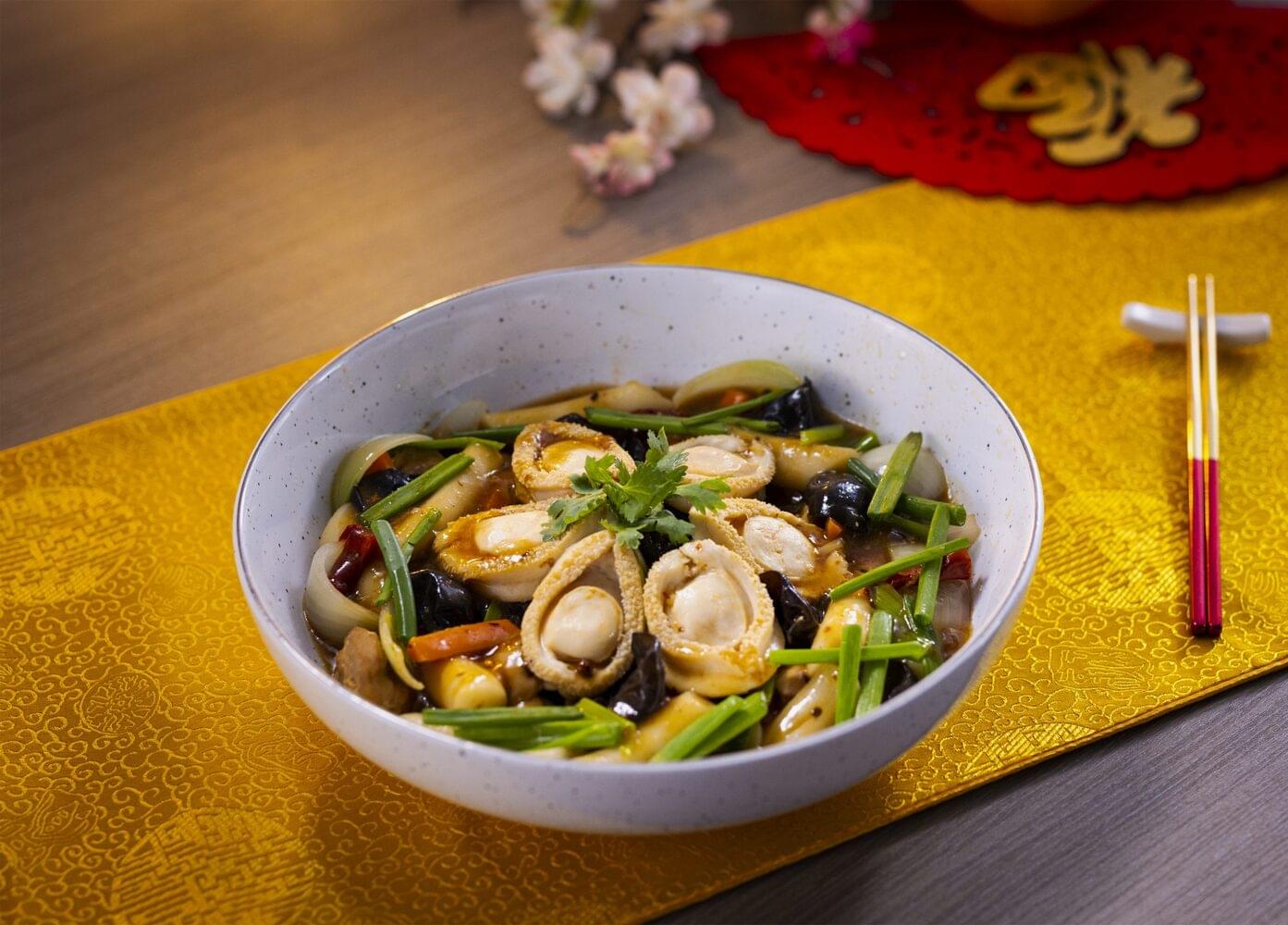 Golden Chef South African Baby Abalone with Korean Rice Cake
Ingredients
| | |
| --- | --- |
| Golden Chef South African Baby Abalone (3 pieces) | 1 can |
| Korean rice cakes | 400 g |
| Chicken leg, boneless and sliced | 200 g |
| Leek, outer leaves discarded, cut diagonally into sections | 200 g |
| Dried small black fungus, soaked | 10 pieces |
| Carrot, peeled and cut into thick stripes | 100 g |
| Green chilli | 2 |
| Dried chilli, seed discarded, cut into smaller sections | 5 |
| Spring onions, cut into sections | 3 |
| Ginger, peeled | 4 |
| Garlic cloves, peeled and sliced | 3 |
| Onion, cut into small wedges | 100 g |
| Golden Chef Premium Light Soya Sauce | 1 tbsp |
| Golden Chef Premium Abalone Sauce | 1 tbsp |
| Chinese wine | 1 tbsp |
| Sugar | 1 tsp |
| Spicy bean paste | 1 tsp |
| Szechuan peppercorn | 1 tsp |
| Stock or water | 500 ml |
| Potato starch | 2 tbsp |
How to cook
Step 1
Turn on the "soup mode" of the rice cooker. Add 2 tablespoons of oil into the rice cooker and sear the chicken in it until browned.
Step 2
Add dried chilli, Szechuan pepper and fry until aromatic. Add the leek, black fungus, garlic, and ginger slices to fry for about a minute.
Step 3
Add onion, green chilli and the white parts of the spring onion. Add Chinese wine, stock, rice cakes and bring to a boil.
Step 4
Mix well and stir fry using a spatula to stir the bottom of the rice cooker.
Step 5
Add in abalone and all of the other sauces. Stir fry until the rice cakes are cooked through, with a soft but chewy texture. Stir in potato starch to thicken the sauce.
Step 6
Stir in the green parts of spring onion until wilted. Serve hot!
Tried this recipe? Rate it!