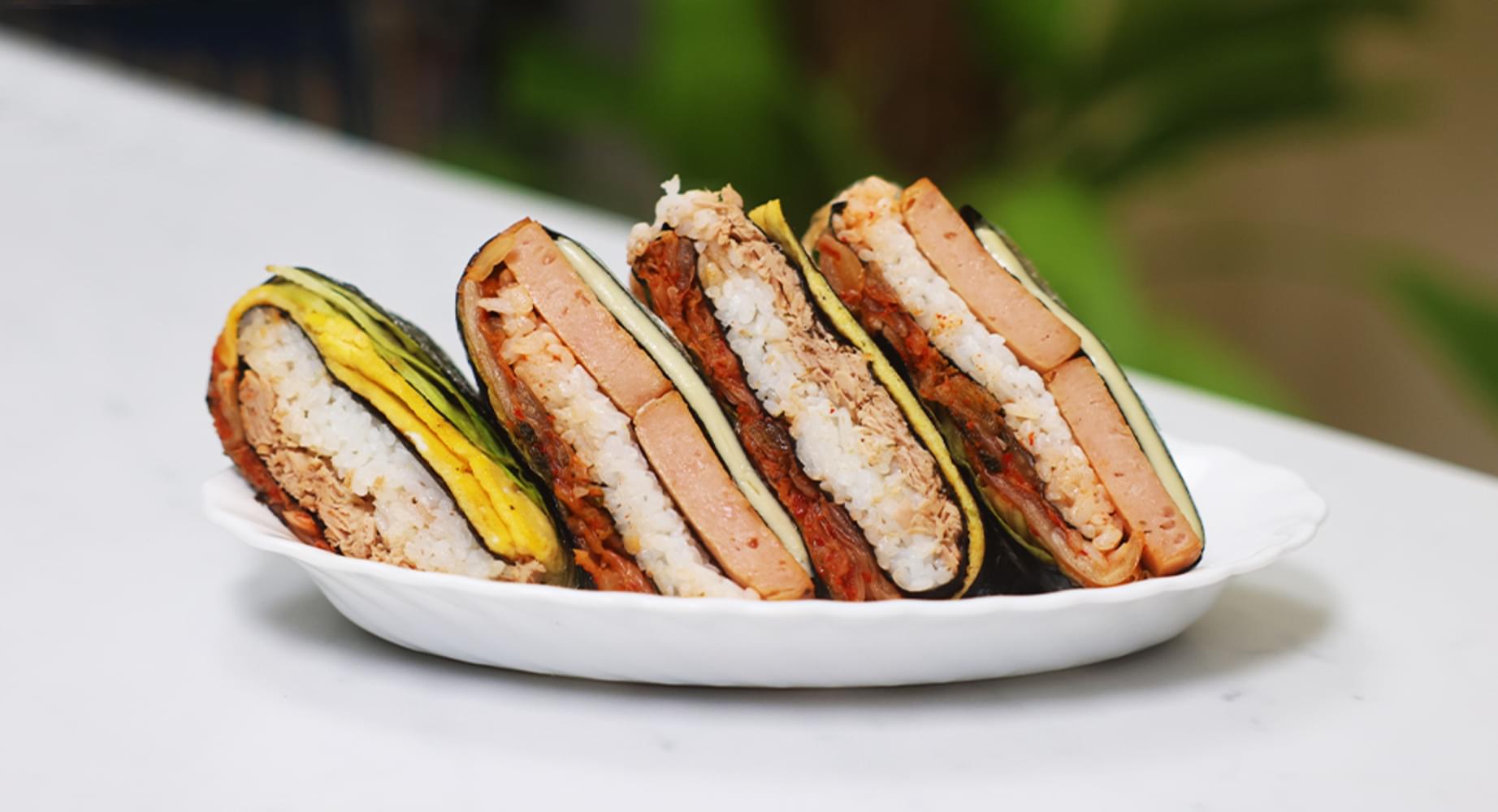 Folded Gimbap (Korean Rice Sandwich)
Ingredients
Seaweed (also known as laver or nori)

1 piece

FairPrice Premium Japonica Rice - Short Grain (cooked)

1⁄4 cup

Cling wrap

Fillings

Kimchi (press out the liquid)

100 g

Sesame Seeds

1⁄4 tsp

Luncheon Meat

Any cooked or processed meats will do, including plant-based alternatives.

1 slice

Tuna (optional)

1⁄2 can

Cheese

2 slices

Romaine Lettuce

1

Sesame Oil

2 tsp

Eggs (optional)

3
How to cook
Prepare the cooked fillings
Add 1 tsp of sesame oil to a pan on low-medium heat. Fry the kimchi for 1-2 mins, then sprinkle with sesame seeds. Set aside.
Fry the luncheon meat for 4-5 mins on each side as well.
Beat the eggs together to make a thin omelette, if you'd like! Add 1 tsp of sesame oil to the same pan and pour the egg mixture in to cook for 4-5 mins on each side. Slice it in your preferred length or thickness.
Drain the canned tuna, if using. Set aside.
Assemble & wrap to serve!
Place cling wrap on a table. Place the seaweed shiny-side down on top of the cling wrap, and cut a slit to the middle of the seaweed sheet with kitchen scissors.
Spread the warm cooked rice to fit neatly in any one quarter. Placed cooked filling in the next quarter. Top lettuce with the cooked kimchi on the other and then add two slices of cheese on the last quarter!
Lift the bottom right quarter and fold it onto the top right quarter, then to the top left, and then finally to the bottom left quarter.
Press lightly and tuck the fillings in after each fold. Once done, wrap it up tightly in cling wrap to keep the ingredients tightly packed together and prevent spillage when cutting to eat.
Garnish with the any remaining sesame seeds to serve, if you'd like!
Tried this recipe? Rate it!