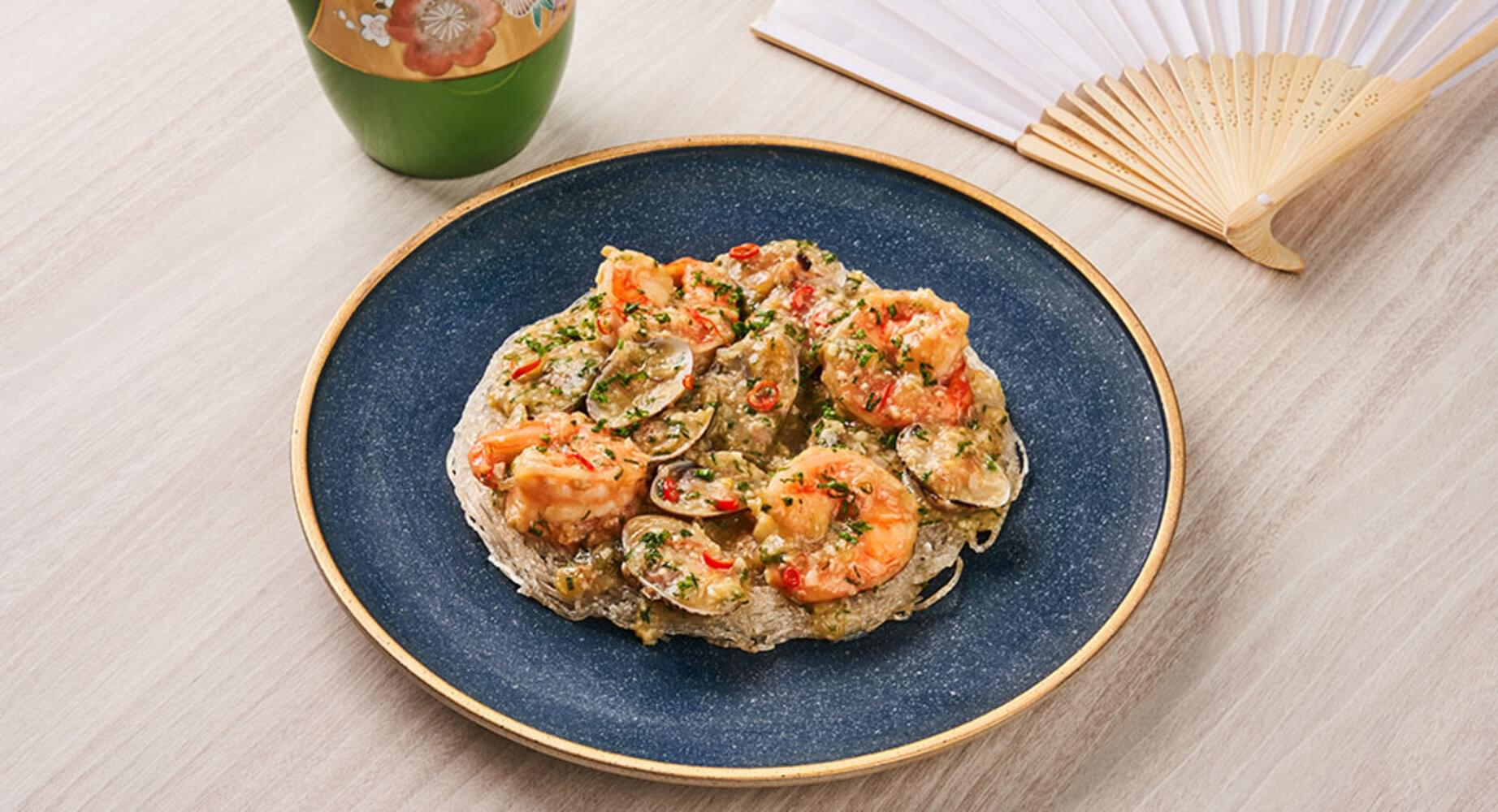 Crispy Noodles with Silky Seafood Sauce
Ingredients
Prawns

shelled

4

Clams

150 g

Rice Vermicelli

soaked with water till soft

55 g

Chicken Broth

150 ml

Garlic

minced

2 tbsp

Ginger

minced

1 tbsp

Chilli Padi

finely chopped

2

Spring Onion

finely chopped

2 tbsp

Hua Tiao Wine

1⁄4 cup

Corn Starch

2 tbsp

Cooking Oil

2 tbsp

White Pepper

1 dash
How to cook
Prepare crispy noodles
Heat up the non-stick skillet at medium high heat for about 5 minutes.
Pour some cooking oil to coat the pan.
Press the vermicelli into a ring mould on the skillet.
Use a plate to weigh the noodles down and press it periodically to get the noodles nice and compact.
Once a crust has formed, flip and cook the other side for another 3-4 minutes until crispy. Set aside.
Start cooking
Add cooking oil to a pan, and saute the garlic, ginger and red chilies until softened.
Add in the prawns and cook for about 15 seconds.
Add in the Shaoxing wine and reduce until almost dry.
Add in clams and chicken broth.
Bring to a simmer.
Pull the sauce off the heat and slowly mix in the corn starch slurry (corn starch + water). Bring back to a simmer until the sauce has thickened.
Add in the seasoning of white pepper and some finely chopped spring onion.
Mix everything together.
To serve, spoon the silky seafood sauce over the crispy noodles and garnish with finely chopped spring onion.
Tried this recipe? Rate it!