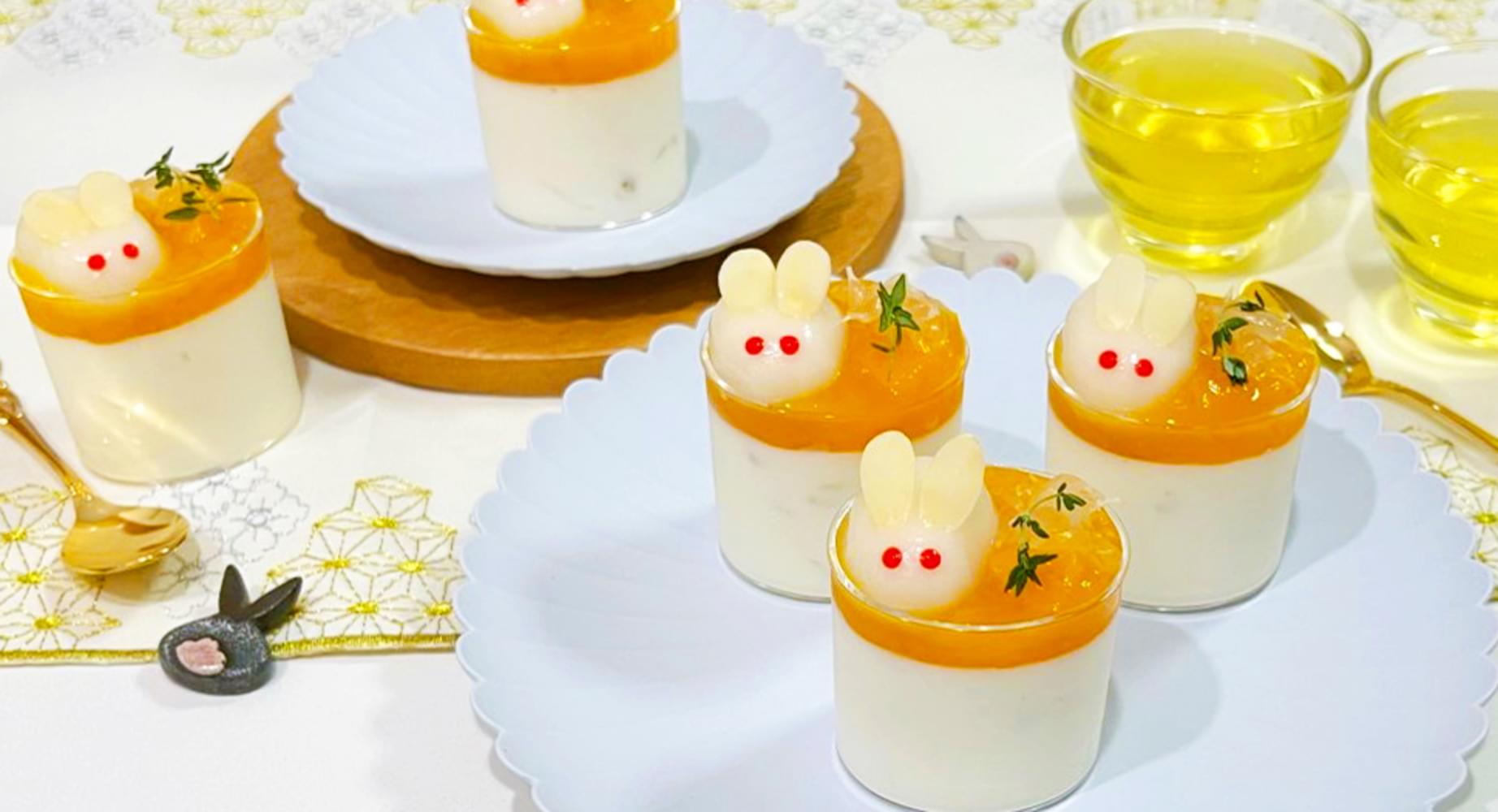 Coconut & Pomelo Mochi Pudding
Ingredients
Pudding

Pomelo

120 g

Coconut Milk

200 ml

Low-Fat Milk

100 ml

Whipping Cream

100 ml

Fine Grain White Sugar

35 g

Gelatin Powder

5 g

Water

20 ml

Mango Jam

150 g

Mochi

Pomelo Juice (squeezed from the pomelo pulp)

10 ml

Fine Grain White Sugar

1⁄4 tsp

Japanese Glutinous Rice Flour

35 g

Water

25 ml

Decoration

Almonds

10 slices

Red colouring

Herbs (thyme or mint)
How to cook
Prepare the pudding
Peel the pomelo and break the flesh into small, bite-sized pieces. Set aside 60g of the pulp for the pudding, and the rest to squeeze the pomelo juice from.
Sprinkle the gelatin powder into 20ml of water in a bowl. It should bloom in 10 mins. Set aside.
Add the sugar, coconut milk, whipping cream, and milk for the pudding in a pot. Mix well. The mixture should be kept on low heat until steam starts to appear just before it boils.
Turn off the heat. Pour the mixture into another bowl and allow it to cool briefly before adding it to the bloomed gelatin. Stir well to dissolve.
Add an equal amount of pomelo among five cups. Follow this by pouring the mixture over.
Leave the mixture in the cups to chill in the fridge until it sets.
Prepare the mochi
Squeeze the pomelo pulp to get 10ml of juice. Set aside for the mochi.
Add the Japanese glutinous rice flour, sugar, water, and pomelo juice into a bowl. Knead the dough until it becomes soft and smooth.
Divide the dough into five parts. Roll and shape them into ovals.
Bring a pot of water to a boil. Drop the dough into the boiling water. Once the dough floats to the surface, boil it for another 2 mins.
Remove the dough from the pot and place it in a bowl of ice water for 2-3 mins. Drain well.
Stick the almond slices to form the rabbit ears. Use a little red food colouring and a toothpick to draw the rabbit eyes.
Assemble the pudding and mochi
Place the mango jam on top of the chilled pudding, followed by the rabbit mochi.
Top with more pomelo pulp, some herbs for decoration and it's done!
Tried this recipe? Rate it!