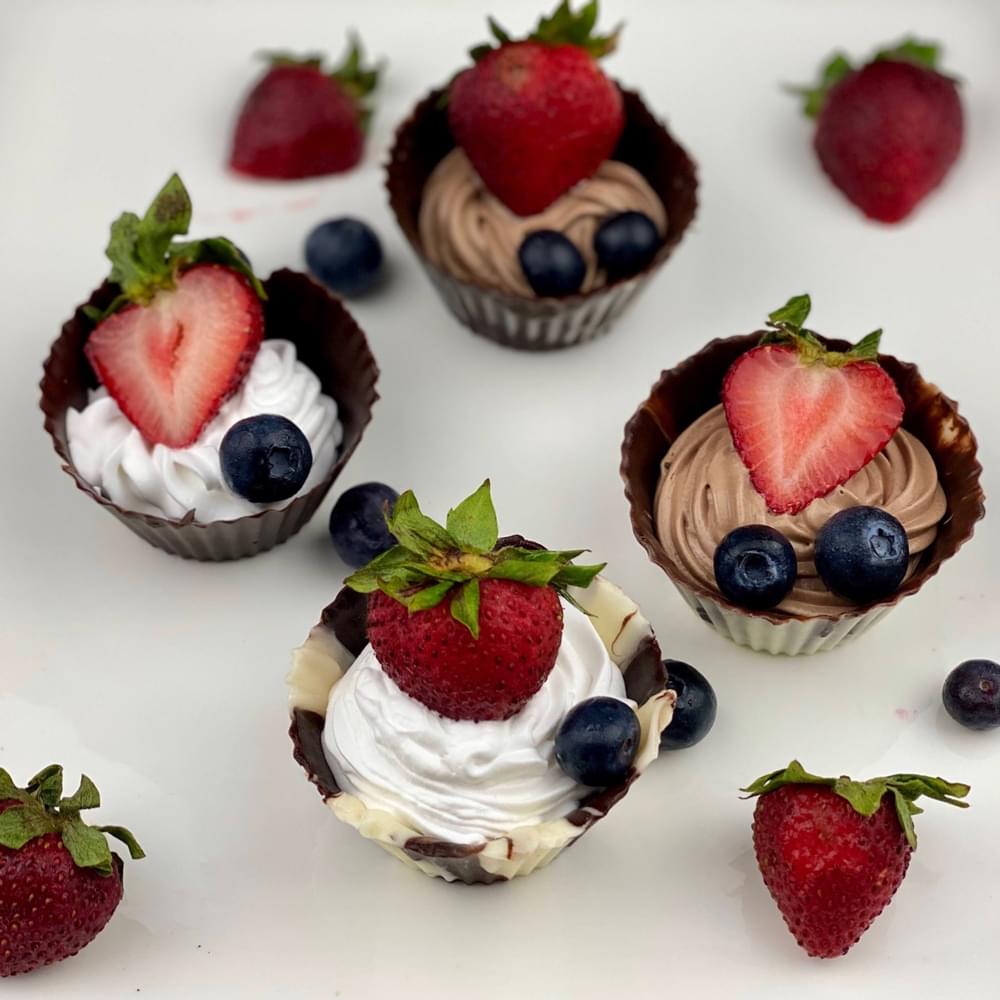 Ingredients
Chocolate Cups

White Chocolate Discs

1 cup

Dark Chocolate Discs

1⁄2 cup

Coconut Oil

1 1⁄2 tbsp
Filling

Blueberries

1 packet

Strawberries

1 packet

Chocolate Discs

1 cup

Whipped Cream

1⁄2 cup

Powdered Sugar

1 packet
How to cook
Start melting the choclate
Add coconut oil to dark chocolate discs and melt it using a microwave or double boiler. Keep it aside.
Do the same with white chocolate discs.
Prepare the cupcake
Using a paint brush, coat the silicone cupcake liners. Refrigerate for 10 minutes.
Later add a second coating and DO NOT SKIP THIS. Refrigerate for 20-30 minutes or till the chocolate completely sets.
Prepare the filling
Meanwhile prepare the filling. Add 1/2 cup whipping cream and chocolate discs in a bowl and melt it. Mix well and let it cool.
In another bowl, take 1 cup of whipping cream and whip till stiff peaks. Transfer some whipping cream to a piping and refrigerate.
Add some whipping cream to the cooled chocolate and mix well. Transfer this mixture to the remaining whipped cream and mix well.
Fill the piping bag with this chocolate mousse and refrigerate.
Assemble and serve
When the chocolate cups are ready, remove gently from the silicone liners and fill with whipped cream and chocolate mousse.
Add fruits and dust with powdered sugar (optional).
Tried this recipe? Rate it!