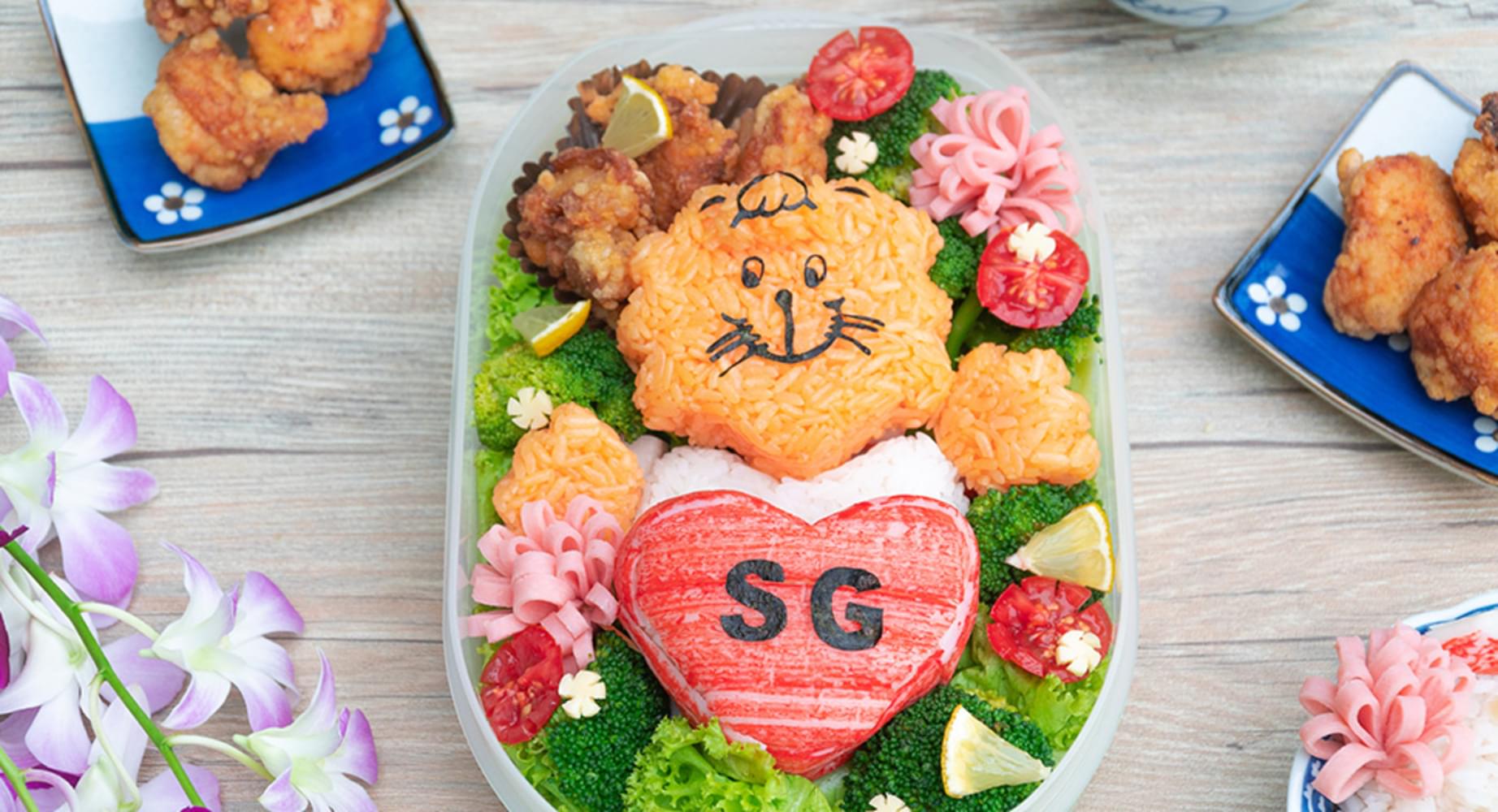 Chicken Karaage Bento (Inspired by the Singa Lion)
Ingredients
Rice

Japanese Short Grain Rice

580 g

Red Food Colouring

1⁄8 tsp

Yellow Food Colouring

1⁄4 tsp

Japanese Rice Vinegar

60 ml

Sugar

2 tbsp

Salt

1⁄2 tsp

Water

580 ml

Chicken Karaage

Boneless Chicken Thigh

cubed

500 g

Egg

1

Garlic

chopped

1 tbsp

Sake

optional

1 tbsp

Potato Starch

3 tbsp

Cooking Oil

200 ml

Light Soy Sauce

1 tbsp

Salt

1⁄2 tsp

Pepper

1 dash

Garnishing

Crabsticks

10

Broccoli

small floret

1

Japanese Toasted Seaweed

1⁄2

Lettuce

7

Tomatoes

4

Chicken Ham

2 slices

Lemon

1 slice
How to cook
Prepare the Rice
Wash and cook the rice in the following portions:
White rice: 435g of rice, 435ml of water.
Bright orange rice: 145g of rice, 145ml of water, red and yellow food colouring.
Add rice vinegar, sugar and salt to a pot and heat just until sugar is completely dissolved. Allow to cool.
Once the rice is cooked, add in cooled vinegar solution.
Prepare the Chicken Karaage
Marinate chicken with garlic, light soy sauce, salt, sake, pepper and egg, mixing well. Cover with cling film and refrigerate for 2 hours, best overnight.
Coat chicken pieces evenly with potato starch.
Heat up oil over medium-high heat. Deep fry until light golden (around 1½ minutes), flipping midway.
Remove and place on wire rack to cool and drain excess oil.
Prepare a second deep fry to purge excess oil and create a crispier skin. Heat up the oil over high heat.
Fry for around 1 minute until the chicken turns a nice golden colour.
Decorating
Steam the crabstick and broccoli until soft.
Shape the Japanese rice to form Singa's face, hands, t-shirt, and heart. Wrap some rice in cling film and compress lightly into a ball, then shape into the various elements.
Unroll the red section of crab sticks and wrap them around the heart shaped rice ball.
Cut the Japanese seaweed using the provided template to achieve the details for Singa's face and the words.
Arrange the ingredients to form the bento.
Tried this recipe? Rate it!