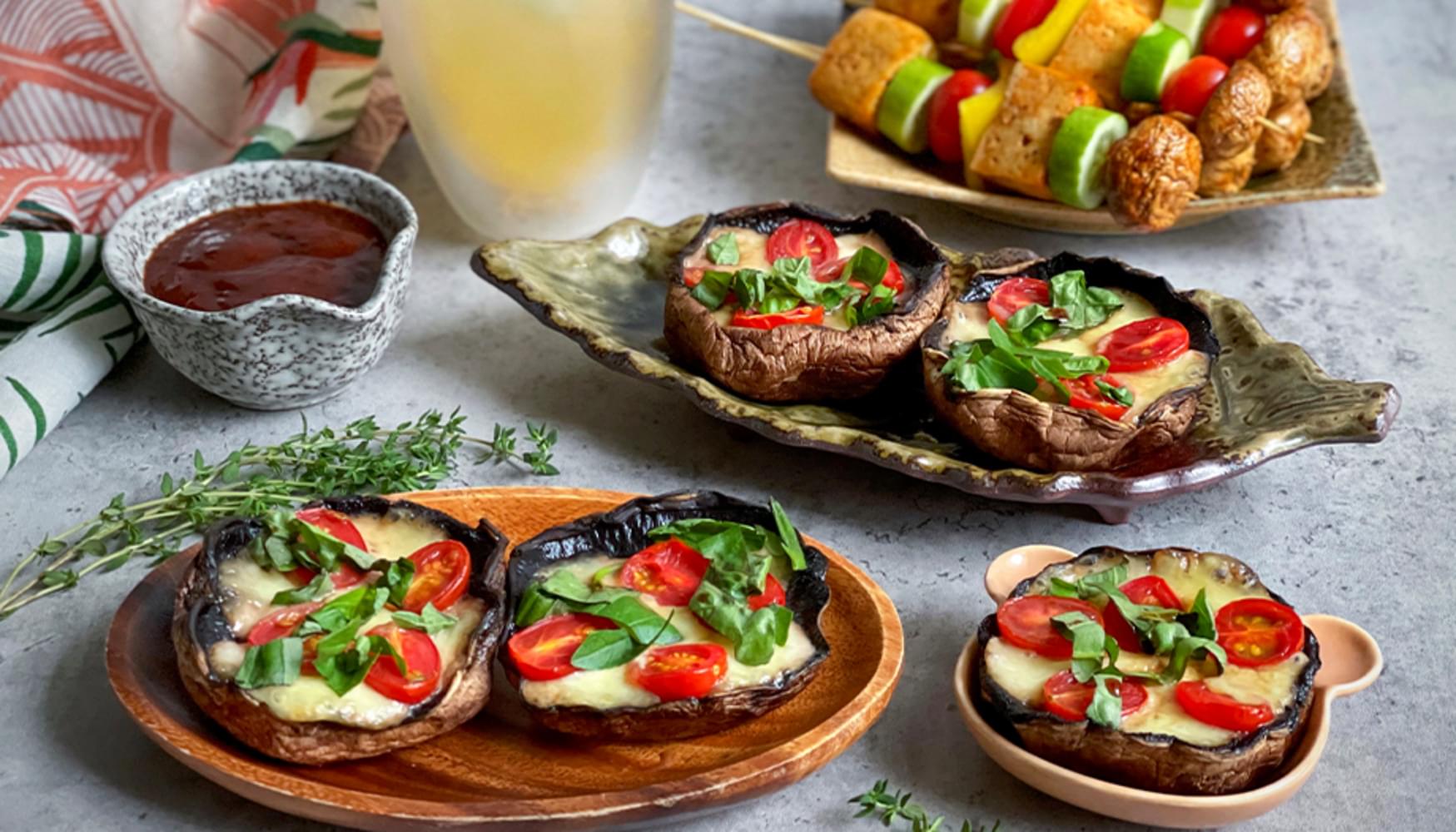 Caprese Mushrooms & Tofu Kebabs
Ingredients
Caprese Mushrooms

Large Portobello Mushrooms (stems removed)

6

Mini Mozzerella Balls (halved)

150 g

Cherry Tomatoes (halved)

12

Balsamic vinegar and fresh basil, for garnishing

Tofu Kebabs

Extra Firm Tofu/Tau Kwa

450 g

White Button Mushrooms

200 g

Yellow Capsicum (chopped)

1⁄2

Cherry Tomatoes

16

Mini Cucumbers (sliced)

2

Olive oil, to drizzle

Bamboo skewers

Thyme Butter

Unsalted Butter (about 3cm thick)

1 slab

Fresh Thyme

5 sprigs

Marinade

Chilli & Pepper BBQ Sauce

3 tbsp

Light Soy Sauce

2 tbsp
How to cook
Prepare the Caprese Mushrooms
Combine all the thyme butter ingredients together in a microwave-safe bowl. Microwave for 1 min and set aside.
Preheat the oven to 180 °C. Brush the bottom of each mushroom with the thyme butter, then place it on a tray lined with baking paper.
Fill each mushroom with the halved mozzarella balls and cherry tomatoes.
Cook the stuffed mushrooms for about 6 mins, or until the cheese has melted.
Drizzle with balsamic vinegar and top with some fresh basil.
Prepare the Tofu Kebabs and serve both up together!
Coat the extra firm tofu and white button mushrooms in the marinade and leave it for 30 mins.
Preheat the oven to 180°C. After 30 mins, drizzle some olive oil over the tofu and mushrooms and mix well
Spread the tofu and mushrooms on a baking tray and cook them for 15 mins.
Skewer the ingredients to serve!
Tried this recipe? Rate it!