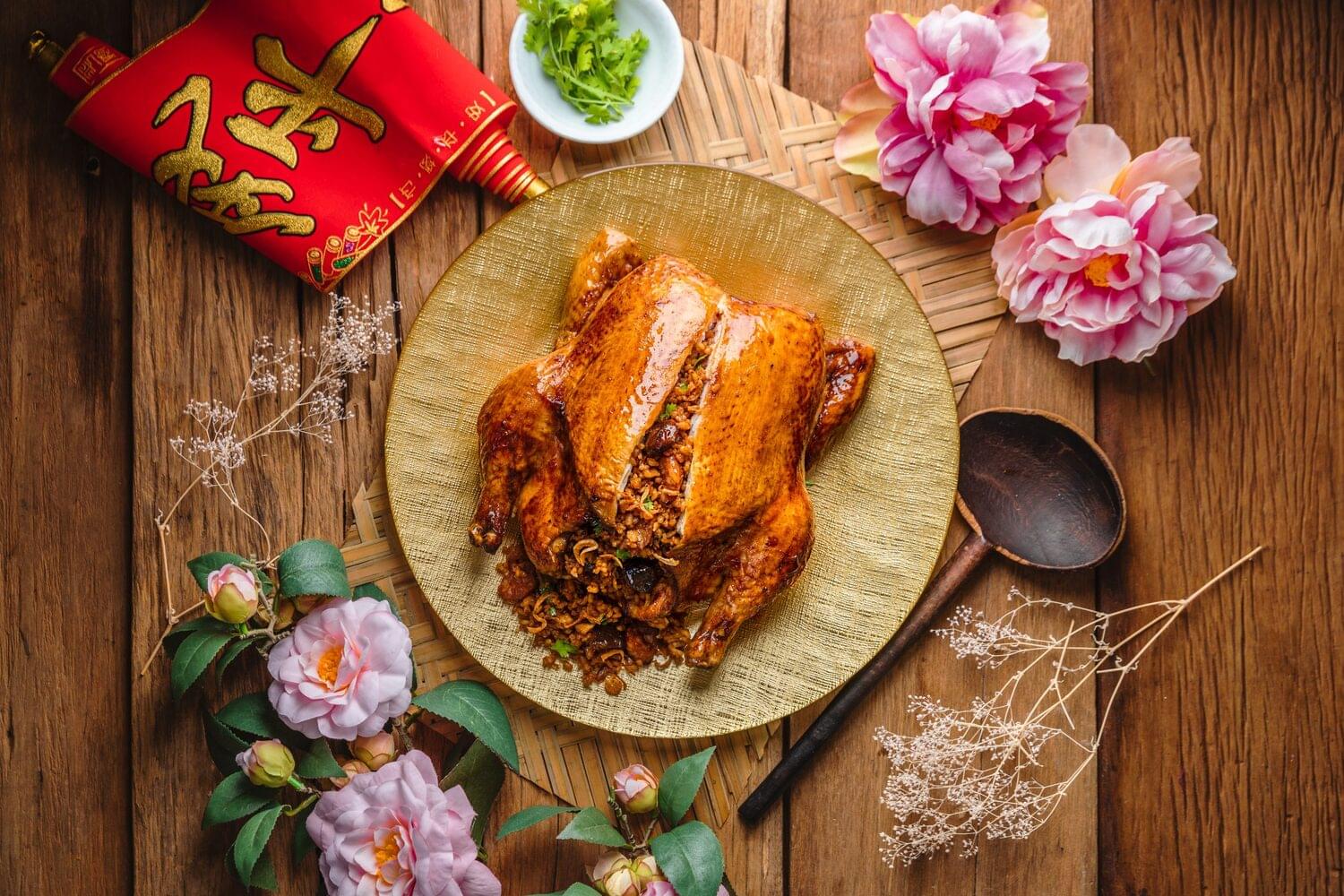 Cantonese Roast Chicken Stuffed with Rice
Ingredients
Chicken

washed

1

Chicken Marinade

Ginger

2 cm, grated

1

Garlic Clove

grated

1

Hoisin Sauce

2 tbsp

Dark Soy Sauce

1 tbsp

Honey

1 tbsp

Five Spice Powder

2 tsp

Shao Xing Wine

1 tsp

Salt

to taste

2 tsp

Pepper

to taste

2 tsp

Chicken Baste

Hoisin Sauce

2 tbsp

Honey

1 tbsp

Five Spice

2 tsp

Cooking Oil

2 tbsp

Rice

Calrose Rice

washed

2 cups

Lup Cheong

sliced

2

Dried Mushrooms

rehydrated and sliced

8

Reserved Mushroom Water

optional

Garlic Cloves

sliced

2

Ginger

1 cm, sliced

1

Fried Shallots

1⁄4 cup

Dried Prawn

washed and chopped

1 tbsp

Sesame Oil

1 tbsp

Rice Seasoning

Shao Xing Wine

50 ml

Kicap Manis

3 tbsp

Dark Soy Sauce

2 tbsp

Chicken Stock Powder

1 tbsp

Salt

1 tsp

Pepper

1 tsp

Garnish

Fried Shallots

Coriander

Chilli
How to cook
Marinate the chicken
Combine hoisin sauce, dark soy sauce, honey, Shao Xing wine, five spice powder, ginger, garlic, salt and pepper for the chicken marinate in a zip lock bag.
Place the chicken inside the bag and thoroughly coat it.
Marinate for at least 30 minutes or overnight.
Prepare the chicken baste
Combine the hoisin sauce, five spice powder, honey and cooking oil then set it aside.
Prepare the rice
In a pan with 2 tablespoon of oil over medium heat, fry the lup cheong until lightly brown on both sides (about 1 minute).
Add in the ginger and garlic, then fry for 30 seconds until fragrant.
Deglaze the pan with Shao Xing wine and add in the remaining rice seasonings - kicap manis, dark soy sauce, chicken stock powder, salt and pepper.
Add in the rice, mushroom and dried prawn - keep stirring for 45 seconds to ensure each grain is coated and does not sticking to the bottom.
Transfer the rice mixture to your rice cooker, add water and cook as per rice cooker instructions.
Once the rice is cooked, fluff up the cooked rice and gently mix in the fried shallots and sesame oil.
Remove 2 cups of rice and place it on a plate to cool.
Start cooking
Place the marinated chicken onto a tray with a wire rack and roast in the oven for 30 minutes.
After 30 minutes, remove chicken from the oven and stuff the cavity with the cooled rice.
Using a brush, brush the chicken baste evenly on the chicken then roast the stuffed chicken for another 15 to 20 minutes (until the thickest part of the chicken breast registers 70°C).
Remove from the oven and let it rest for 5 minutes.
Serve the chicken with a side of the extra rice and garnish with chilli, coriander and more fried shallots (optional).
Tried this recipe? Rate it!