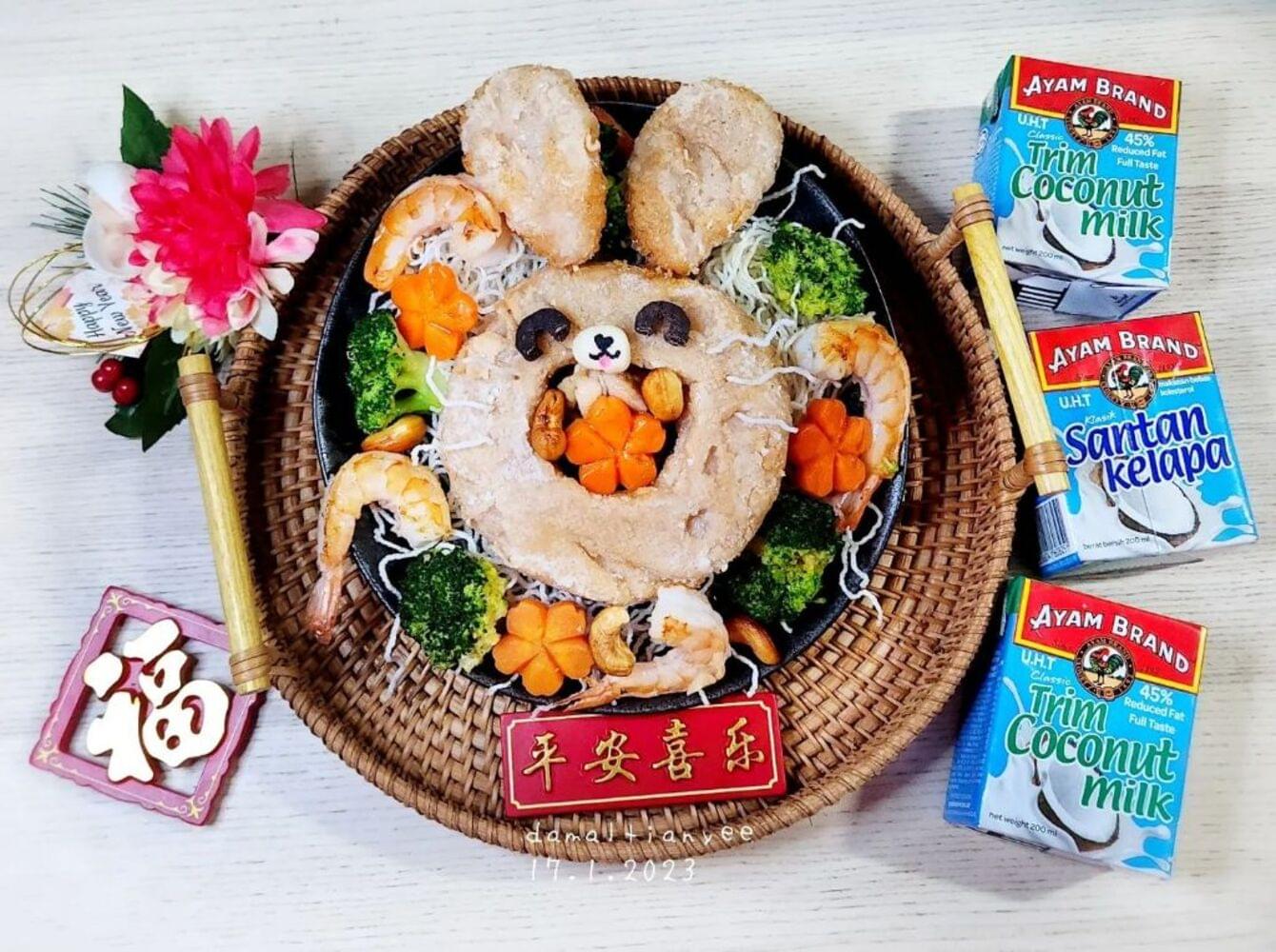 Bunny coconut milk yam rings
Ingredients
Yam

300 g

Wheat Starch

40 g

Ayam Brand Coconut Milk

40 g

Unsalted Butter

30 g

Sesame Oil

1⁄2 tsp

Salt

1⁄2 tsp

Five Spice Powder

1⁄2 tsp

Sugar

1⁄2 tbsp

Boneless Chicken Thight

1 piece

Broccoli

1 stalk

Cashew Nuts

3 tbsp

Prawns

5 pieces

Bee Hoon

1⁄4 packet

Garlic

minced

2 tbsp

Soy Sauce

2 tbsp

Oyster Sauce

1 tbsp

Water

40 ml

Potato Starch

add some water

1 tbsp
How to cook
Start cooking
Slice yam into pieces.
Steamed sliced yam until cooked.
Put cooked yam into pitcher.
Heat coconut milk in microwave for 1 min.
After heating, mix coconut milk with Wheat starch.
Put mixture in pitcher, and mix it well in blender.
Add in butter, Sesame oil, salt, sugar and Five spice powder, into pitcher and mix well in blender.
Put yam paste in fridge for about 2 hours.
After 2 hours, shape yam paste into round shape (yam ring).
Start frying
Marinate chicken pieces with soy sauce and white pepper.
Fry yam ring until golden. Take it out after cooking.
Deep fry cashew nuts until golden, take it out after cooking.
Deep fry bee hoon, take it out after frying.
Pan fry prawns first, take it out after prawns turn red.
Pan fry chicken with garlic first, add in broccoli, soy sauce, oyster sauce and water.
3 minutes later, put prawns inside, add potato starch with water to make gravy thick.
After cooking, you can plate.