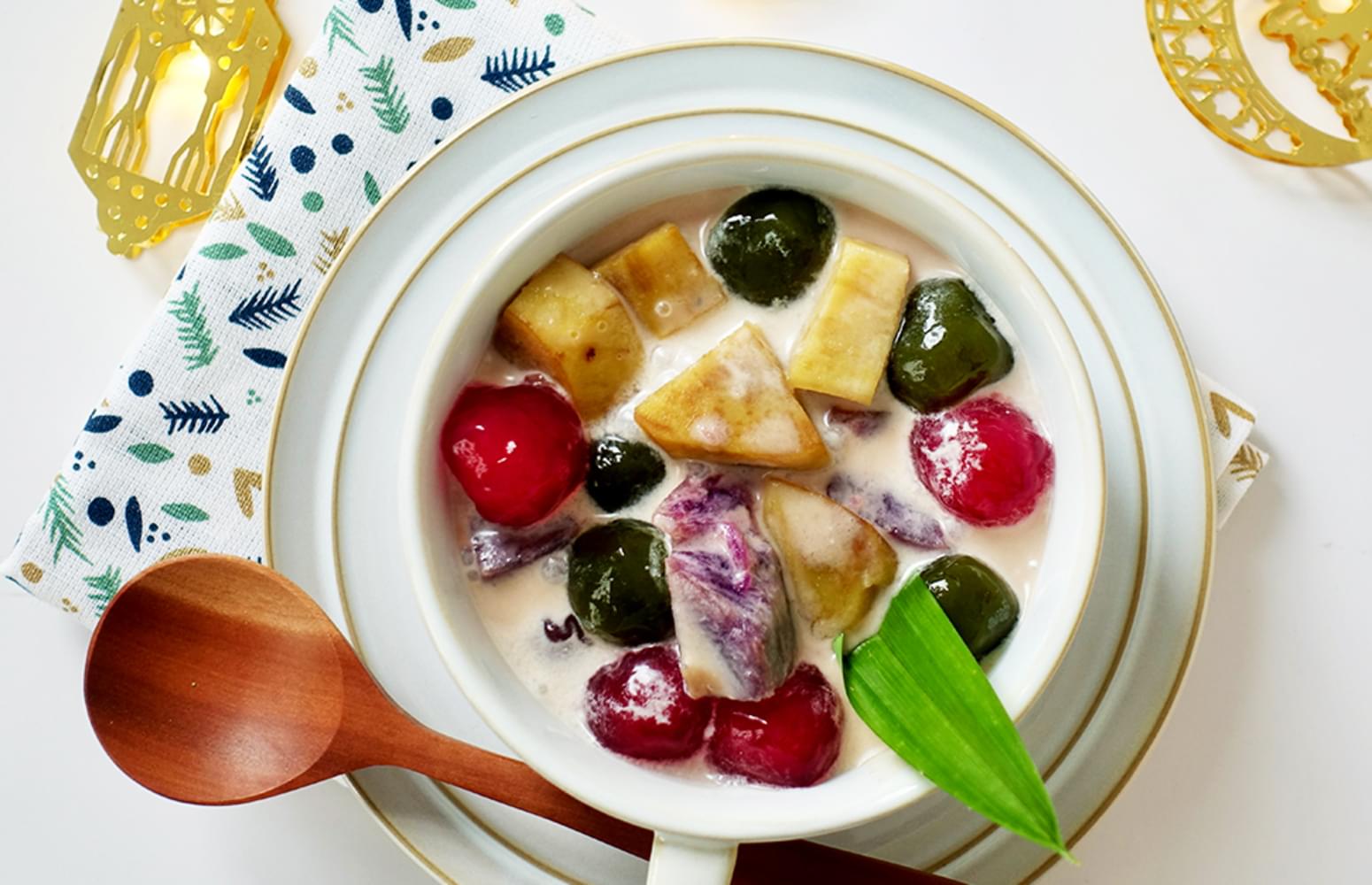 Bubur Candil (Sweet Tapioca Balls in Coconut Cream Sauce)
Ingredients
Pandan Leaves (knotted)

2 stalks

Vietnam Prepacked Japanese Sweet Potato (peeled and cut into bite-sized cubes)

1

Purple Sweet Potato (peeled and cut into bite-sized cubes)

1

Red Dough

Tapioca Starch

200 g

Beetroot Powder

1⁄2 tbsp

FairPrice Fine Sugar

1 tbsp

Water

100 ml

Green Dough

Tapioca Starch

200 g

Matcha Powder

2 tsp

FairPrice Fine Sugar

1 tbsp

Water

100 ml

Coconut Cream Sauce

Gula Melaka (chopped roughly)

100 g

Pandan Leaves (knotted)

3 stalks

Water

Add more water if you prefer a runnier consistency

400 ml

Coconut Cream

400 ml
How to cook
Prepare the sweet potato and coloured tapioca balls
Boil the sweet potatoes for 15 to 20 minutes, or until they are tender when pierced with a fork. It'll take less time if you cut the sweet potatoes into even smaller pieces. Set aside.
Mix the tapioca starch with the beetroot powder and fine sugar until well combined. Fill a pan halfway with water, and keep stirring this mixture on the stove over low to medium heat until it turns pasty.
Remove from heat and knead until even and smooth. The dough should look slightly rough and dry. With your hands, mould small pieces of the dough to your desired shape.
Repeat this process for the green dough.
Cook the tapioca balls
Boil 200ml of water in a pot and add the two knotted pandan leaves. Add the tapioca balls and cook until they float; once they reach the surface of the water, cook for another 5 mins.
Dunk the cooked tapioca balls (or candil) in a bowl of ice water and set aside.
Prepare the coconut cream sauce to serve!
Add all the ingredients except the coconut cream in another pot. Boil and keep stirring the mixture until the gula melaka has melted completely.
Add the sweet potatoes and boil for another 5 mins. Lower the heat and add the coconut cream, stirring to avoid any coconut cream separation.
Distribute the candil evenly among the serving bowls, and pour in the warm coconut cream sauce. Enjoy!
Tried this recipe? Rate it!