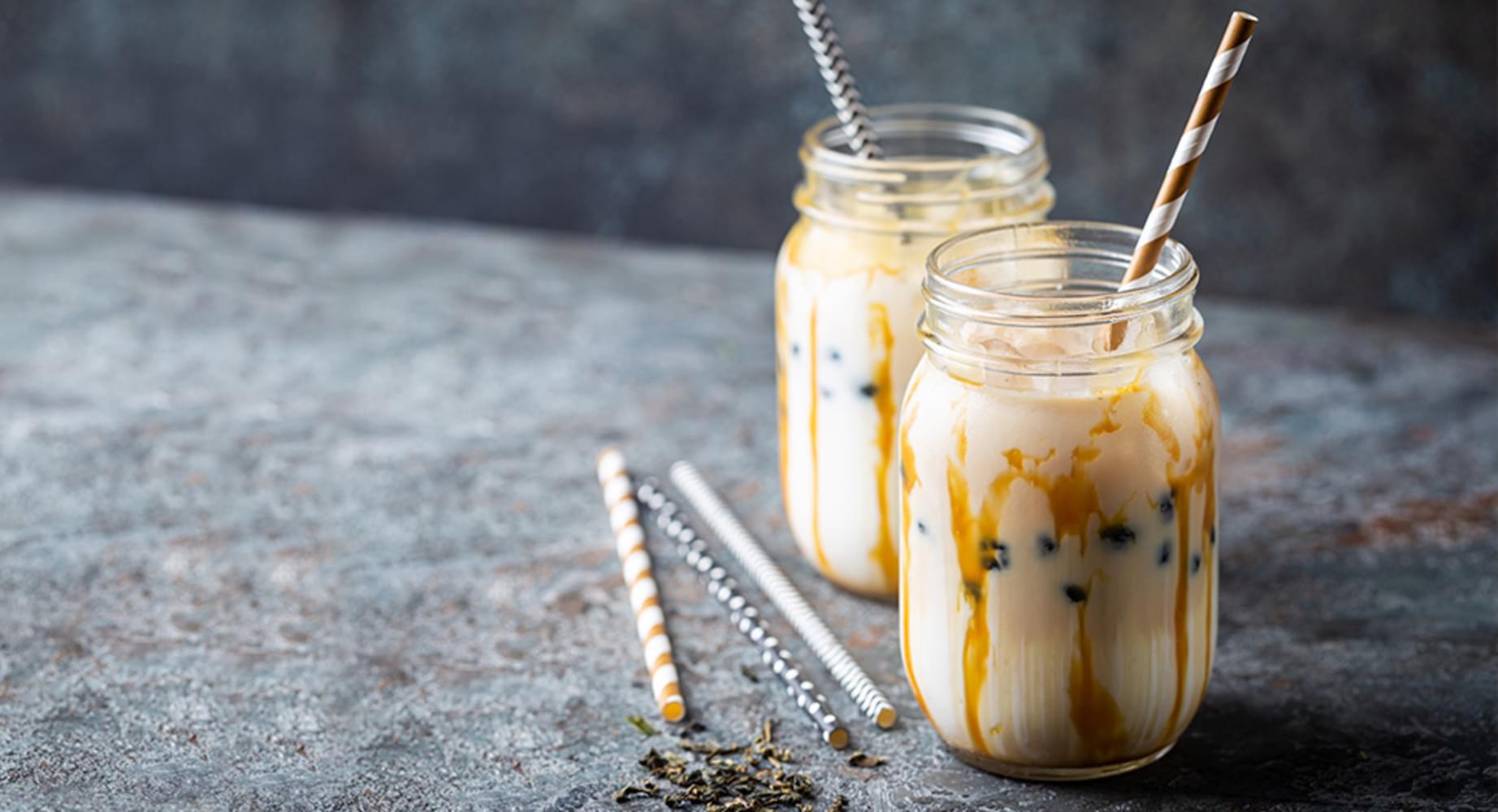 Brown Sugar Bubble Milk Tea
Ingredients
Milk Tea

Milk

1.5 l

Black Tea

4 bags

Light Brown Sugar

50 g

Ice Cubes

Tapioca Pearls

Brown sugar

or muscovado sugar

45 g

Tapioca Starch

sifted, prepare more for dusting

110 g

Water

65 ml

Braising Syrup

Brown Sugar

or muscovado sugar

1⁄2 cup

Water

240 ml
How to cook
Prepare the milk tea
Add the milk, tea bags and light brown sugar into a pot then heat it up until the milk starts to steam.
Let the tea bags steep in the hot milk for 15-20 minutes before taking them out.
When the milk tea is cool enough, transfer it into a jug or bottle, and keep it in the refrigerator until it is cold.
Prepare the tapioca pearls
Pour the water and brown sugar into a small pot or saucepan, and bring it to a boil.
Stir and make sure all the sugar has melted, turn down the heat to low, then pour the tapioca starch into the pot all at once.
Stir the pot until everything is evenly mixed and a sticky brown dough forms.
Cook the dough over very low heat for 3-5 minutes, stirring constantly to prevent the bottom from burning.
Scrape the dough out onto a clean work surface, and split it into 2 or 3 roughly equal portions.
Take 1 of the dough portions, and cover the rest with a cloth or kitchen towel to prevent them from drying out.
Roll out the dough portion into a long string (roughly ¼-inch thick) and cut it into ¼-inch pieces.
Roll each piece of dough in between the palms of your hands and shape it into little spherical balls.
After you roll each ball, dust it in some tapioca starch to prevent it from sticking.
Repeat until you have rolled out all the dough.
Start cooking
Ready a large pot of water, and bring it to a boil.
Add in the tapioca pearls, and keep the water on a rolling boil for 20 minutes until the pearls are cooked through.
Stir consistently in the beginning to prevent the pearls from sticking.
Once the pearls start to float, only stir the pot once every few minutes.
Once the pearls are cooked, transfer them into a bowl of ice water to stop the cooking process and firm up slightly.
Prepare the braising syrup
Add the water and brown sugar in a small pot, and bring to a boil.
Add in the chilled tapioca pearls, and turn the heat down to a slow simmer.
Let the pearls braise for 20-25 minutes, until the braising liquid turns thick and syrupy.
Keep the braising syrup warm after it's done cooking.
Assemble and serve
Tilt the glass or cup at a 45° angle, and place the tapioca pearls close to the lip of the glass, letting them slide down to the base.
Repeat this on all sides to get a tiger stripe-like ripple effect, then add the ice cubes and milk tea.
Tried this recipe? Rate it!