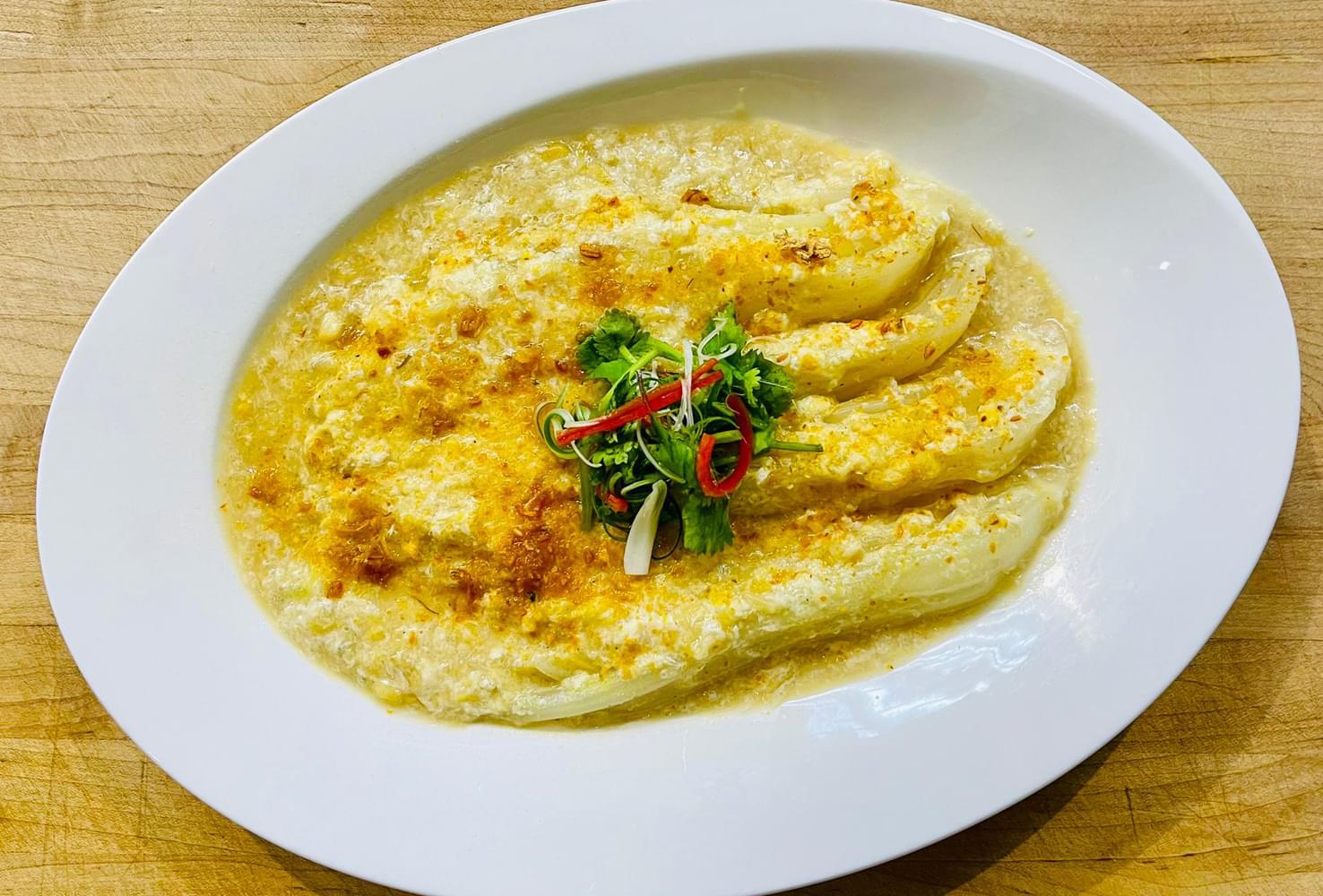 Braised Long Cabbage with Sweet Corn and Egg White Sauce
Ingredients
Long Cabbage

cut vertically into 4 parts

500 g

Corn Kernel

100 g

Fresh Eggs

separate the egg whites and egg yolks

2

Fried Dried Sole Fish

break into smaller pieces

1

Chicken Stock

650 ml

Ginger

3 slices

Oyster Sauce With Dried Scallop

2 tbsp

Cornstarch

1 tsp

Chicken Powder

optional

1 tsp

Pepper
How to cook
Start cooking
Heat up oil in a wok pan and fry sliced ginger until fragrant.
Add in the dried sole fish pieces, chicken stock, long cabbage and corn kernels, then simmer over low heat until soft.
Braise for another 15 minutes or until the cabbage is soft.
Remove the cabbage from the stock onto a serving plate.
Remove the dried sole fish and grind it into powder, then set it aside.
Blend the remaining stock for 1 minute.
Pour the blend back into the wok pan and it bring to a boil.
Add chicken powder, pepper, oyster sauce and mix evenly.
Thicken the stock with corn starch.
Whisk the egg whites and add it gradually into the sauce while continuing to stir.
Cook over medium heat until the egg white is cooked evenly.
Pour the sauce over the cabbage, garnish with dried sole fish powder and serve!
Tried this recipe? Rate it!