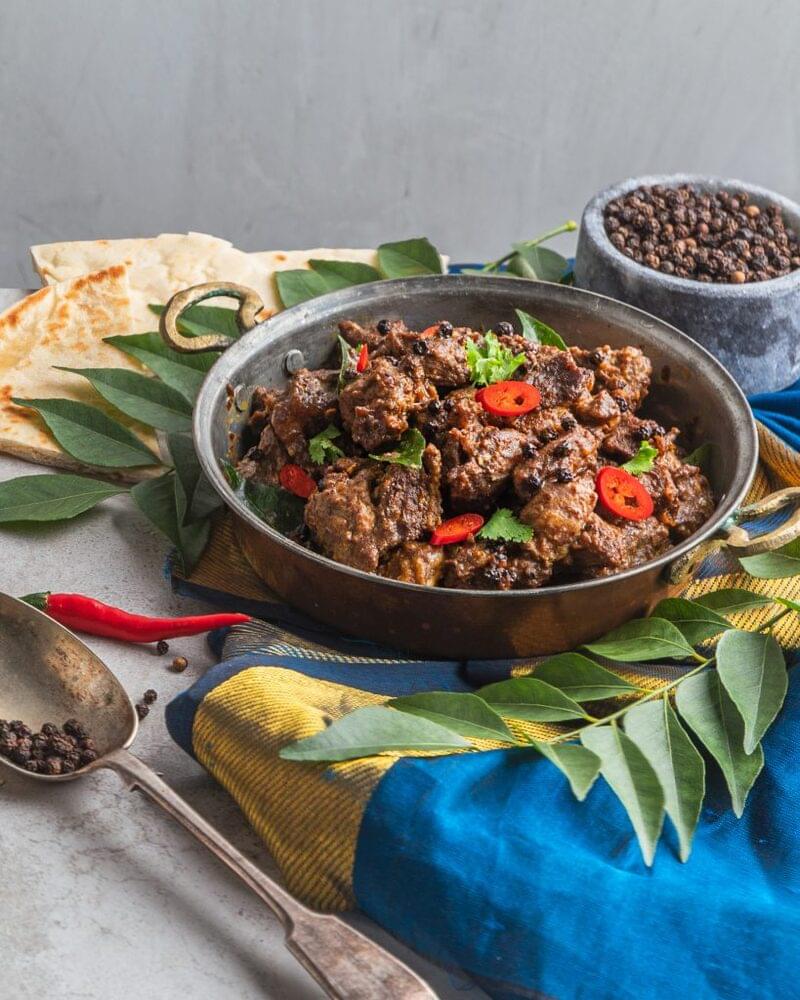 Ingredients
Red Onions

thinly sliced

2

Garlic

finely minced

3

Ginger

finely minced

1 piece

Black Pepper

cracked

2 tbsp

Soy sauce

1 tbsp

Curry Leaves

15

Salt & pepper to taste

Water

1 1⁄2 cups
For Mutton Marinade

Mutton

cut into 2 cm cubes

500 g

Coriander Powder

1 tsp

Chilli Powder

1 tsp

Cumin Powder

1 tsp

Garam Masala

1 tsp

Turmeric Powder

1⁄2 tsp

Corn Flour

1 tbsp

Greek Yoghurt

1 tbsp

Lemon

juice

2 tsp

Salt

1 tsp

For Garnish

Coriander

Chilli
How to cook
Mutton marinade
Mix all the ingredients well, ensuring that the mutton cubes are thoroughly coated.
Marinate for at least 30 mins — the longer, the better!
Cook the mutton
Heat a saucepan or pan (with a lid) with 2 tbsp of oil over medium-high heat.
Sear the mutton cubes on every side until they're browned. Set aside.
In the same pan, reduce to medium-low heat and fry the garlic, ginger and onions until the onions turn translucent.
Add in the curry leaves and black pepper to fry for 1 min.
Add in the mutton cubes and soy sauce and mix well.
Lastly, add in water to deglaze the bottom of the pan.
Bring it to a boil, then reduce it to a simmer. Cover for 45 mins to keep simmering or until the mutton is tender.
Serve in a bowl and garnish with extra coriander and sliced chilli.
Tried this recipe? Rate it!