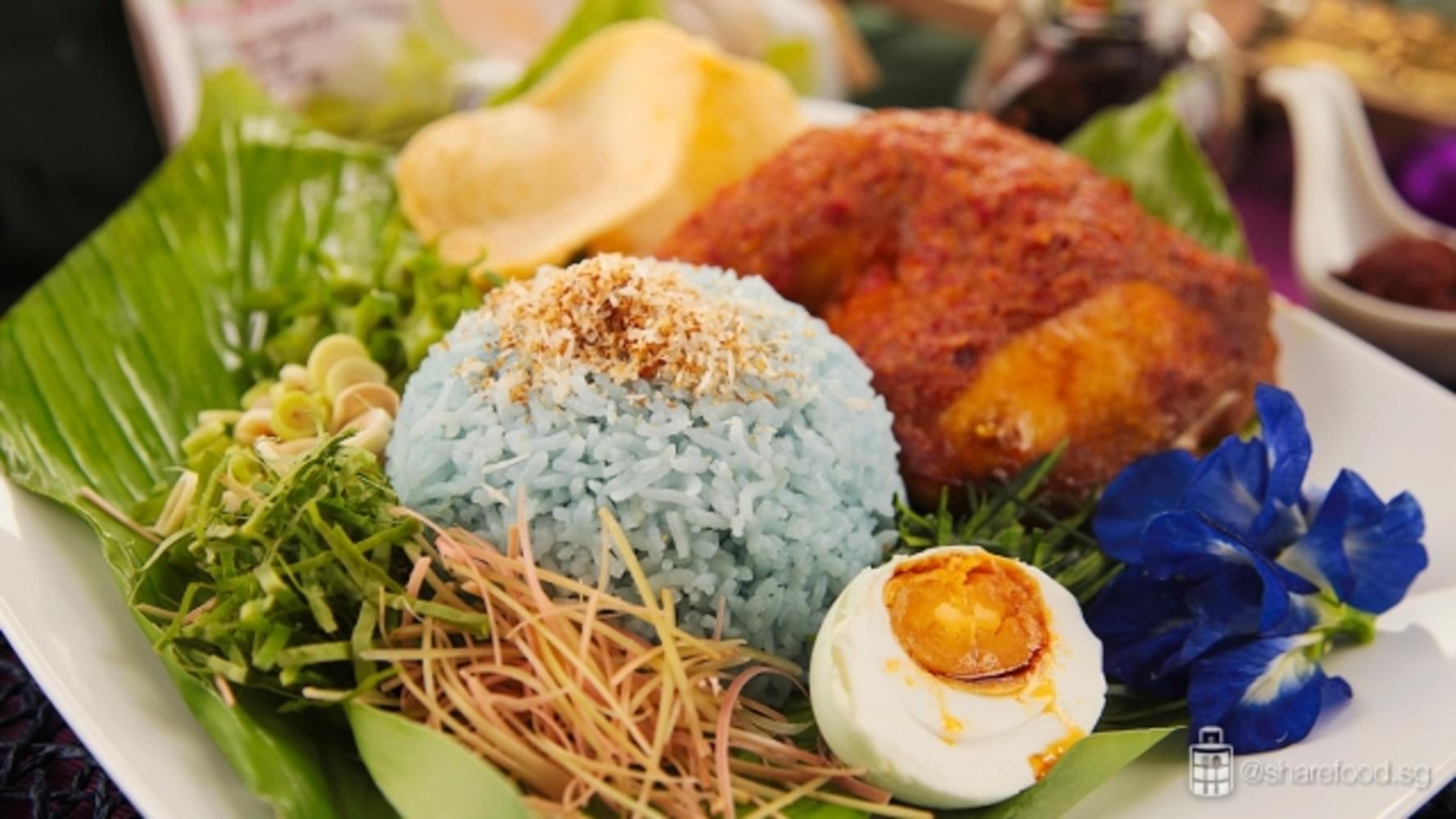 Nasi Kerabu with Ayam Percik
Ingredients
Chicken Leg

4 pieces

Dried Blue Pea Flowers

soaked in hot water

30 pieces

Rice

2 cups

Coconut Milk

200 ml

Chicken Stock

1 1⁄2 cups

Tamarind Juice

1 cup of tamarind paste mixed with 2 tablespoons of water

1 cup

Coconut

freshly grated and toasted

1 tsp

Garlic

10 cloves

Red Chilli

10

Shallots

large sized

10

Candlenuts

10

Lemongrass

2 stalks

Ginger

thumb-sized

1

Galangal

thumb-sized

1

Tumeric

thumb-sized

1

Tumeric

1 tsp

Chilli Powder

1 tsp

Coriander Powder

1 tsp

Fennel Powder

1 tsp

Cumin Powder

1 tsp

Corn Flour Mixture

2 tablespoons of corn flour and 4 tablespoons of water

1 cup

Brown Sugar

2 1⁄2 tbsp

Cooking Oil

1⁄4 cup

Salt

2 tsp

Water

for the blue pea flower

2 1⁄2 cups
Garnish

Bruised Lemongrass

Kaffir Leaves

torn roughly or shredded

Galangal

2 slices

Tumeric Leaves

Torch Ginger Bud

cut into thin strips

Lemongrass

cut into small strips

Wing Bean

blanched for 1 minute and cut into small pieces
How to cook
Prepare the blue rice
Soak the blue pea flowers in 2 ½ cups of hot water.
Remove the blue pea flowers from the water and pour the water into the rinsed rice.
Soak the rice for 10 minutes.
Add in kaffir lime leaves, galangal and lemongrass.
Cook the rice as per package instructions.
Marinate the chicken
Place the chicken legs in a mixing bowl.
In a small bowl, mix 1 teaspoon of turmeric, 1 teaspoon of chilli powder, 1 teaspoon of coriander powder, ½ teaspoon of fennel powder, 1 teaspoon of cumin powder, 1 teaspoon of brown sugar, 1 teaspoon of salt and 1 teaspoon of chicken stock together.
Pour the marinade over the chicken leg and rub it evenly.
Cover and transfer to the chiller then marinate for at least 1 hour.
Prepare the chicken
Preheat the oven to 180°C for 20 minutes.
Remove the marinated chicken from the fridge and let it sit in room temperature till the oven is ready.
Transfer the chicken into the oven and bake it for 20 minutes.
Once the chicken is cooked through, set it aside.
Prepare the chilli gravy
In a blender, add in 1 thumb-sized ginger, 1 thumb-sized galangal, 1 thumb-sized turmeric, 10 cloves of garlic, 10 red chillis, 10 large shallots, 2 stalks of lemongrass, 10 candlenuts and 4 tablespoons of cooking oil, then blend till smooth.
In a wok, add in the chilli paste and fry for 5-10 minutes till fragrant.
Add in tamarind juice, coconut milk and chicken stock.
Bring it to boil then reduce to medium heat.
Simmer for 10-15 minutes.
Mix in salt, sugar and corn flour mixture.
Start cooking
Pour the chilli gravy over the baked chicken leg and coat it evenly.
Transfer the chicken leg into the oven.
Use top heat and grill at 200°C for 15 minutes.
If you like it more charred, you can grill it for a longer time.
Assemble and serve
In a serving plate, surround the rice with Ayam Percik, fresh herbs or vegetables and other side dishes of your choice.
Tried this recipe? Rate it!