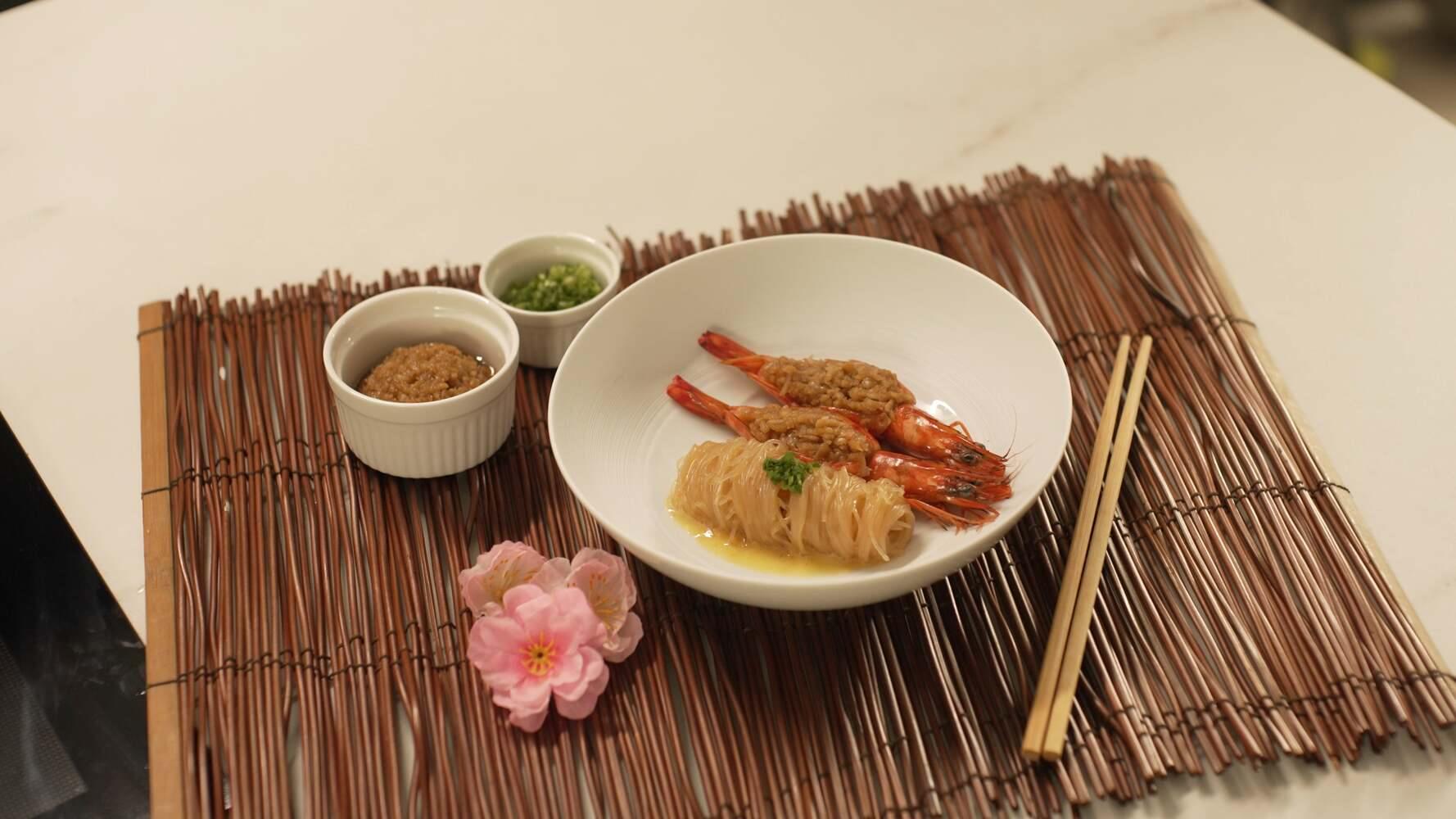 Butter Garlic Prawn Tang Hoon
Ingredients
| | |
| --- | --- |
| Pre-minced garlic | 135 g |
| Cooking oil | 2 tbsp |
| Soy sauce | 2 tbsp |
| Oyster sauce | 1 tbsp |
| Shaoxing wine | 1 tbsp |
| Sesame oil | 1 tsp |
| Sugar | 1 tsp |
| White pepper to taste | |
| prawns | 5 |
| Salt to taste | |
| Tang hoon (pre-soaked) | 50 g |
| Unsalted butter | 50 g |
How to cook
Cook the garlic paste
In a non-stick skillet, add the cooking oil and cook the minced garlic on medium heat for 2 - 3 mins.
Add in soy sauce, oyster sauce, Shaoxing wine, sugar and pepper and allow to cook out till the garlic is almost like a paste.
Turn off the heat, add sesame oil and mix well.
Cook the tang hoon
In a pot of boiling water, cook the tang hoon for about 3 mins or until al dente.
Steam the prawn
Butterfly the prawn by cutting a slit down the middle of the back of the prawn.
Season the meat with a bit of salt.
Spoon the garlic paste into the cavity of the prawn.
Steam for about 8 mins.
Cook the sauce
Once the prawns are cooked, drain off all the cooking liquid into a small sauce pot and whisk in the butter bit by bit to emulsify into a sauce.
Toss the noodles in the sauce, turn off the heat and mix well.
Plate to your liking.
Tried this recipe? Rate it!